Nemo Dagger Osmo Tent Collection
Dagger OSMO is the quintessential one-tent-wonder: lightweight enough for backpacking, yet roomy enough for comfort on any adventure. Dagger OSMO is one of the first tents in Nemo's iconic backpacking collection to feature their new proprietary OSMO fabric with advanced water repellency that lasts 4X longer and keeps you drier from start to finish. This composite fabric has 3X less stretch when wet, reducing sag and maintaining wind and rain shedding in any weather. OSMO is completely PFC and fire-retardant chemical free and is woven of 100% recycled yarns.
GCI Kickback Rocker
GCI's lightest and most compact rocker to date, the Kickback Rocker packs a big punch for its mid-size stature. The Kickback Rocker sits slightly lower than standard size chairs, but higher than low to the ground chairs – making it the perfect chair to kickback in! It features patented Spring-Action Rocking Technology for smooth rocking on flat, hard and soft terrains. Designed as a bagless chair, it is equipped with a built-in carry strap and loop and peg closure system. This offers a quick set up and pack up. Additional features include a beverage holder and cell phone pocket.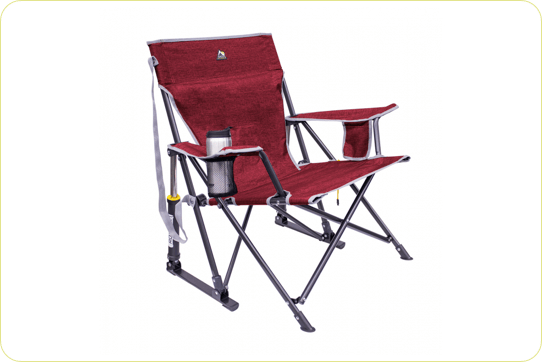 Camp/Hike Products
Showing

results
On my recent trip to backpack the Teton Crest Trail with my family, this 3P tent really made a difference. It is super lightweight but still roomy enough for 3. Under 3 lbs and really compact with very user friendly features like the light pocket and vents built into the vestibule on both sides.

Rich Chisholm
Chapel Hill