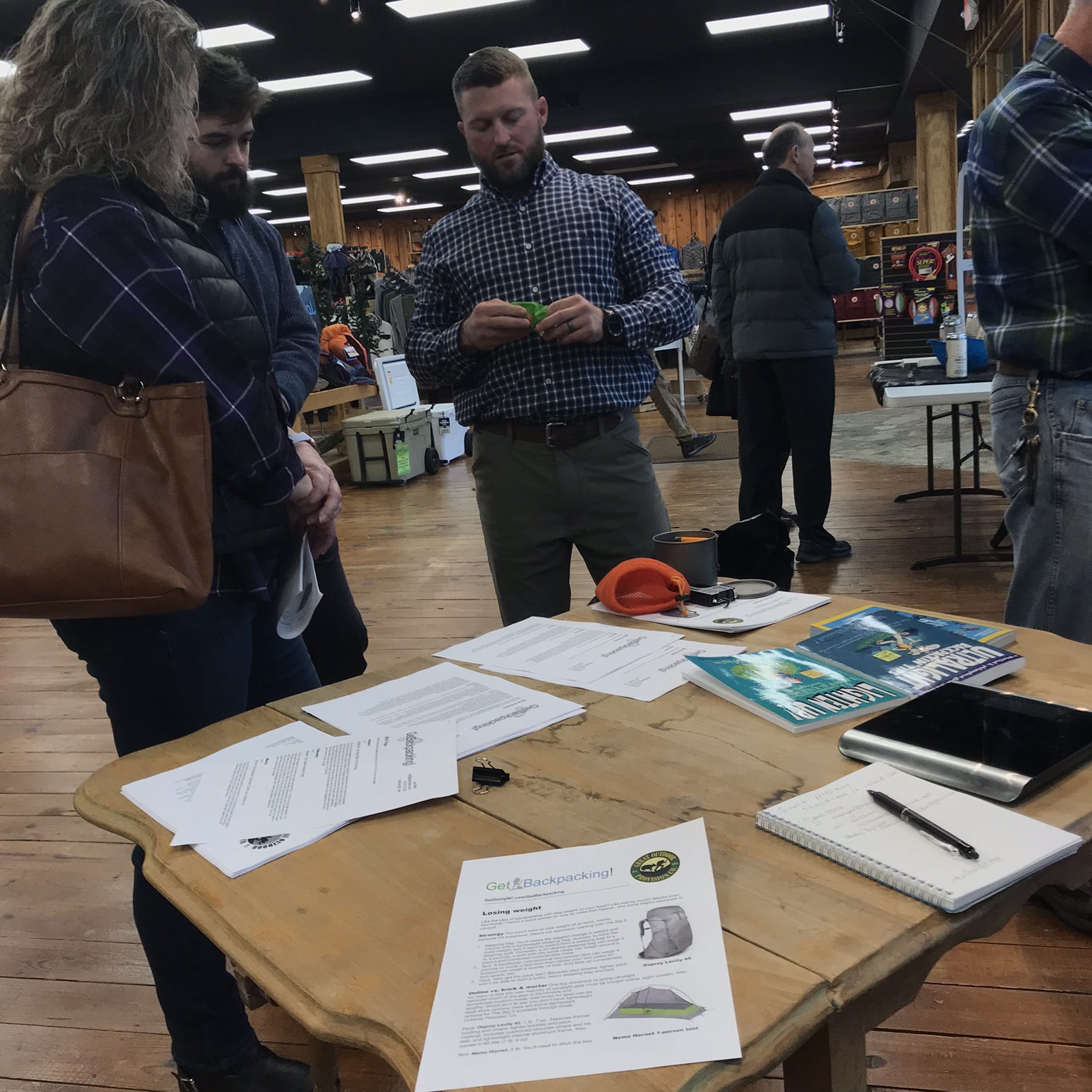 At Saturday's informal GetBackpacking! Backpacking Get-together with Fiddlin' Fish Brewery, we talked with all sorts of folks.
There were the backpacking curious, the people who'd maybe read a book ("A Walk in the Woods"), maybe saw a movie ("The Way"), maybe had done both ("Wild") that piqued their interest in backcountry travel.
There were the lapsed backpackers who hadn't hoisted a pack since college in the '70s ("Has the gear changed?").
There were backpackers new to the area who were interested in where to hike.
There were seasoned backpackers interested in dropping a few pounds (from their packs).
We had good discussions with all. We realized, though, that there were a lot of you who might have been interested in attending, but couldn't. For those who weren't there, here's a quick recap covering how, through our GetBackpacking! program, we can help you get into backpacking, how we can help you be a better backpacker, and how we can help you discover some of the great places to explore for a weekend or more.
Be a backpacker
We offer two options. First, for the simply curious who isn't sure she/he is ready to commit:
Overnight Sampler
Intrigued by the notion of backpacking but not enough to commit to our Intro class? We'll hit the highlights of backpacking — and provide the key gear and backpacking food — offering an opportunity to spend the night camping at a primitive campground (that means no showers) so you can determine if the experience is something you want to pursue.
Session 1: Saturday-Sunday, March 9-10, Eno River State Park, Durham. Learn more, sign up here.
Session 2: Saturday-Sunday, May 4-5, Raven Rock State Park, Lillington. Learn more and sign up here.
GetBackpacking! Intro to Backpacking
In this comprehensive class we start with a two-hour gear session, going over the key gear required for backpacking, the various gear options available, and how to pack a backpack. Next, we have a five-hour training session at Morrow Mountain State Park. In full pack, we'll hike two miles, scout for campsites, set up camp, cook a meal, break camp and hike two miles back to the trailhead. Finally, we take a weekend graduation trip to South Mountains State Park. Some loaner gear is available.
Session 1: Training, Saturday, Feb. 23; graduation trip, March 2-4. Learn more, sign up here.
Session 2: Training, Saturday, April 13; graduation trip, April 26-28. Learn more, sign up here.
Be a better backpacker
Going Solo
You've been backpacking for a while, and while you love the group experience, part of the reason you got into backpacking was for the solitude. Yet you wonder: Do I have what it takes to be out alone, overnight? This class lets you find out in a safe setting with an instructor nearby. We hike in Friday afternoon, camp together. Saturday, we spread out along a 1.3-mile stretch of trail, depositing campers along the way for a night of solo camping (with the instructor not far away). Includes a pre-trip planning meeting and handouts.
Session: Friday-Sunday, May 31-June 2. Learn more and sigh up here.
Explore the region
Here are the trips we'll be taking this spring:
February
8-10
Merchants Millpond State Park
When you think of backpacking in these parts, you think of exploring the scenic highlands — the mountaintop balds, the roaring waterfalls — of the Southern Appalachians. Rarely do your thoughts turns to camping in a swamp. But in winter, they should, especially at a place as enchanted as Merchants Millpond State Park. The park is centered around a 760-acre millpond created more than 200 years ago ago. For about a century, it was the hub of regional commerce. Then it wasn't. And not long after the it became a wild coastal playground ripe for exploring. Join us for a basecamp weekend involving a 3-mile hike to camp on Friday afternoon, an 8- to 10-mile day hike Saturday, a 3-mile hike out Sunday.
Learn more and sign up here.
15-17 
Appalachian Trial: Max Patch to Hot Springs
Not a fan of cold weather backpacking? Maybe it's because you don't know how to prepare and don't know what to expect. Winter's 45-degree days under sunny skies can be some of your best days to be on the trail. This trip includes an hour-and-a-half prep class the Tuesday before the hike, during we'll go over how to dress for the winter trail and, more importantly, how to cope with the cold in camp. Includes handouts, which you will receive upon signing up.
Then, we'll take a three-day, two-night trip on a 20-mile stretch of the Appalachian Trail from
from Max Patch to the town of Hot Springs. 
Learn more and sign up here.
March
30-31
Women Only Backpack: Dutchman's Creek Loop, Uwharrie Trail
If you haven't backpacked in awhile or you're itchin' to try out some new gear, this early season overnight trip is a great option. We'll head to the Uwharrie National Forest, a relict mountain range southwest of Asheboro, for a two-day, 12-mile hike. A good early season hike, with moderate distances and mildly challenging terrain.
Learn more and sign up here.
April
30-31
Appalachian Trail: Carvers Gap to US 19E
Welcome to the most scenic stretch of the AT in North Carolina (and Tennessee). From the git-go at Carvers Gap, the Appalachian Trail passes over Round and Jane balds (with a side trip to a third, Grassy Ridge, possible), offering sweeping views of the North Carolina, Tennessee and Virginia mountains. There's some intimate high-ridge hiking (the mountain ash should be coming into bloom), then more balds: Little Hump and Hump mountains. We should also be on the cusp of the spring wildflower season at this altitude, which flirts with 6,000 feet. Includes shuttle and post-hike shower.
Learn more and sign up here.
May
17-19
Introduction to Linville Gorge
Linville Gorge is a destination near the top of every Southeast backpacker's list. Yet the reputation of this rugged 11,651-acre wilderness can be intimidating. This trip offers an introduction to the gorge that lets you savor its awesome beauty and sample the ruggedness for which it's known. It's a good opportunity to determine just how challenging you'd like your backpacking to be. In this introduction, we'll hike in and establish base camp atop Shortoff Mountain, then don daypacks to explore the most rugged sections of the gorge.
Learn more and sign up here.