When most soldiers leave the military, the last thing they want to do is camp. Been there carrying 80 pounds on my back, done my fair share of sleeping standing in a hole filling with water. For William Fike, though, it was different.
"For me," says the new manager of our shop in Greenville, "it was the opposite. We used bivvy sacks, not tents, we had a go-light, leave-no-trace mentality. We'd leave as small a footprint as possible; everything you leave behind, enemy can use to learn about you." That was especially true in William's case; as a Forward Observer in the U.S. Marine Corps, his job was to be ahead of the front line, assessing the enemy's position.
As a result, when William left the service he had a newfound love of the outdoors. Upon enrolling at the University of Alabama in civil engineering, he got involved in the school's outdoor program. He met his future wife, Adrienne, in a Wilderness First Responder class, then followed her to the University of West Florida where he switched his major to criminal justice ("I wanted to be a park ranger").
After the two graduated in 2014, William followed Adrienne again, to Eastern Kentucky University, and eventually, in 2017, to Greenville, where she became the Assistant Director for East Carolina University's Adventure Leadership program. Upon arriving in Greenville, William immediately began working in our Greenville shop.
We caught up with William to find out more about his outdoor passion and what he loves about working and playing in Greenville.
Q. How long have you been with Great Outdoor Provision Co? How did you get started, and what's caused you to remain in the industry?
Almost two years. I started working in the outdoor industry after getting out of the military. I started by getting my lifeguarding certification and working as a trip leader for the University of Alabama at Birmingham during my first semester. I became further involved with the outdoor recreation community by obtaining my Wilderness First Responder (WFR) certification, spending my first spring break climbing Mt. Rainier for a six-day winter expedition skills course, and taking up rock climbing in the Alabama mountains. I met my wife during that first WFR course. She was already heavily involved with outdoor recreation and we encouraged each other to continue to learn new skills and make career moves that kept us in the outdoor recreation field.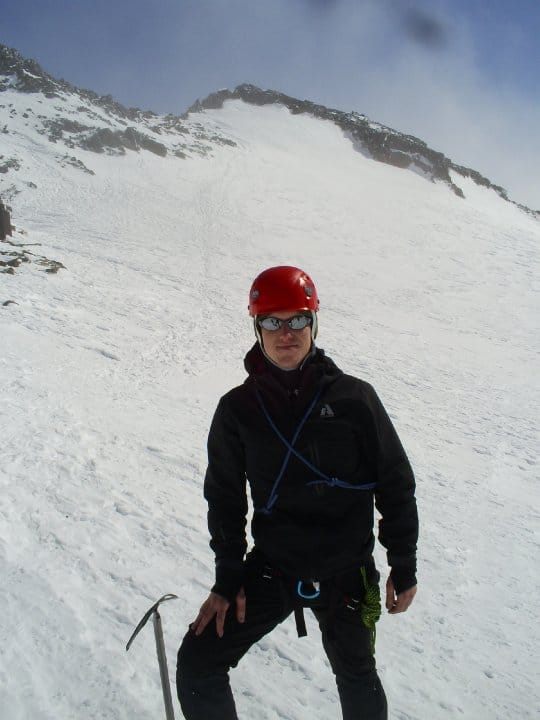 Q. You were a Forward Observervation Instructor in the U.S. Marine Corps as. Could you explain what that is? Are there elements of that job that help you in your role as store manager?
As a Forward Observation Instructor, I taught Marines the basics of target triangulation, map reading, land navigation, and call for fire both in a classroom setting and during live-fire ranges. I was also a Forward Observer (FO) and the lead FO for the 81mm mortar platoon. As a lead FO, I was tasked with training my junior FOs. This experience combined with the experience as FO instructor helped me learn different approaches to teaching and developing people to become confident, self-reliant, and highly skilled professionals. When my FOs were attached to different units, they had no way of coming back to me and asking me for help. This meant that I had to have as much confidence in their abilities as they had in themselves.
In my time as a trip leader for the university, I adapted those skills to work with a civilian population. In the Marines, if I told my junior Marine to jump, he would not ask how high, he would just jump as high as he could. You cannot do this with a civilian, especially not with a college student. So, I had to take more of a convincing route, I had to make them want to walk backwards over a cliff holding on to a rope despite their fears. I had to convince people who have only known me for a few hours to trust me with their lives, and did so by being honest and upfront and treating everyone equally and with a high degree of respect. I led by example and did not ask anyone to do something that I would not do myself and, in many cases, I did things first to instill confidence and trust.
This directly translates over to my leadership style of management. I do not really agree with the "golden rule" style of management simply because everyone is unique and not everyone wants to be treated the way I want to be treated. Everyone requires a different approach when it comes to professional development. I have learned to explain concepts and tasks many different ways because everyone learns differently. The most important lesson all my experience has taught me is how to empathize. Empathy is the true essence of my leadership style.
Q. While in school you guided multi-day outdoor trips and provided wilderness skills instruction. What types of trips did you lead? Any particularly memorable moments leading one of those adventures?
At UWF I led all trips: caving, canoe camping, sea kayaking, beach camping, rock climbing, backpacking, and even ski trips. One of the most memorable things from my experience at UWF is when I discovered hammock camping. Camping in Florida in August is rough when the evening temperatures do not drop below 80 degrees. The first time I used a hammock on our annual August canoe camping trip, it revolutionized hot weather camping for me. Other than that all the trips were memorable. Both at UAB and UWF, we always had a very diverse group of participants with a good amount of international students and I always enjoyed learning about their different cultures.
Q. As store manager, it seems you have two priorities: keeping the customer happy, keeping your staff happy. How do you do both, and how do those missions dovetail?
I start with keeping my crew happy, the rest will follow. I feel strongly that happiness is contagious but so is unhappiness. If my crew is disgruntled it will show in their interaction with the customer and their general work ethic. I stay in my crew's favor by winning their respect and trust. I listen to them to find out what makes them happy, what will make them feel valued and fulfilled, and how I can help them succeed in their duties. Sometimes it is as simple as giving them room to grow, letting them take initiative, and making them feel comfortable with failure. I do a lot of confidence building because I feel that a confident person will be more eager to approach and talk to customers when they come in or need help. A confident person will explain things better and in general are better received by customers.
Q. What are the biggest advantages to consumers of dealing with an independent such as Great Outdoor Provision Co.?
The advantages include a more personable approach, experienced staff, and often a unique place to spend time. Working at GOPC feels more like spending time with family than being at work, and I think that is perceived by the customers. Our staffs are typically more experienced and knowledgeable about our products than most of the big stores. We are more willing to put in the work to truly satisfy the needs of the customers. Many times, too, customers just like coming in to our unique store to check out new gear and dream about their next big adventure
Q. What do you like most about working with customers?
I get wanderlust from helping customers prepare for their adventures and that really keeps me motivated to stay involved with the outdoor community. We have a lot of international travelers; one guy came in and he was preparing to climb Mount Kilimanjaro. When we started looking at gear, we had to look at the several different eco zones he'd be going through, about what kind of pack would work in those varied conditions, a variety of things.
Q. Do you have an especially memorable experience with a customer that you'd like to share?
I helped a husband and wife buy base layers for a white water rafting trip and in return they invited me to go dove hunting on their land. I accepted the invitation and spent the day with the husband dove hunting. I also helped him change a tractor tire and he showed me around his property.
Q. What are your favorite outdoor pursuits?
Nowadays my favorite outdoor pursuit is paddling. I especially like paddling the bay areas, the backside of the outer banks and other coastal areas. I used to be more info backpacking, but now, living here, I've shifted to paddling.
Q. What are the biggest changes you've seen in the industry?
I think Instagram and other social media platforms have made a huge impact on the industry. Some of those impacts are bad and some are good. NPR did an article on how social media created an ease of sharing information of the accessibility of recreation areas but also created a desire for people to want to go to these places, some of which are fragile, and just take selfies so they can say "been there, done that, took a picture". In the NPR article, they refer to the increased work load put on search and rescue crews due to the amount of people going into the backcountry unprepared searching for something they saw online. On the bright side, I have recently noticed an increase in diversity in the outdoor industry which I am excited to see. I am also excited to see outdoor brands advertising to someone other than the stereotypical flannel wearing, bearded, white male.
Q. Is there a particular piece of gear you're especially excited about?
I really love Hurricane kayaks. I was also really excited when Hobie came out with the more affordable compass.
Q. Got a favorite place to play in the Greenville area?
The Tar River; I really think the Tar River is an under-rated and under-utilized outdoor recreation resource.