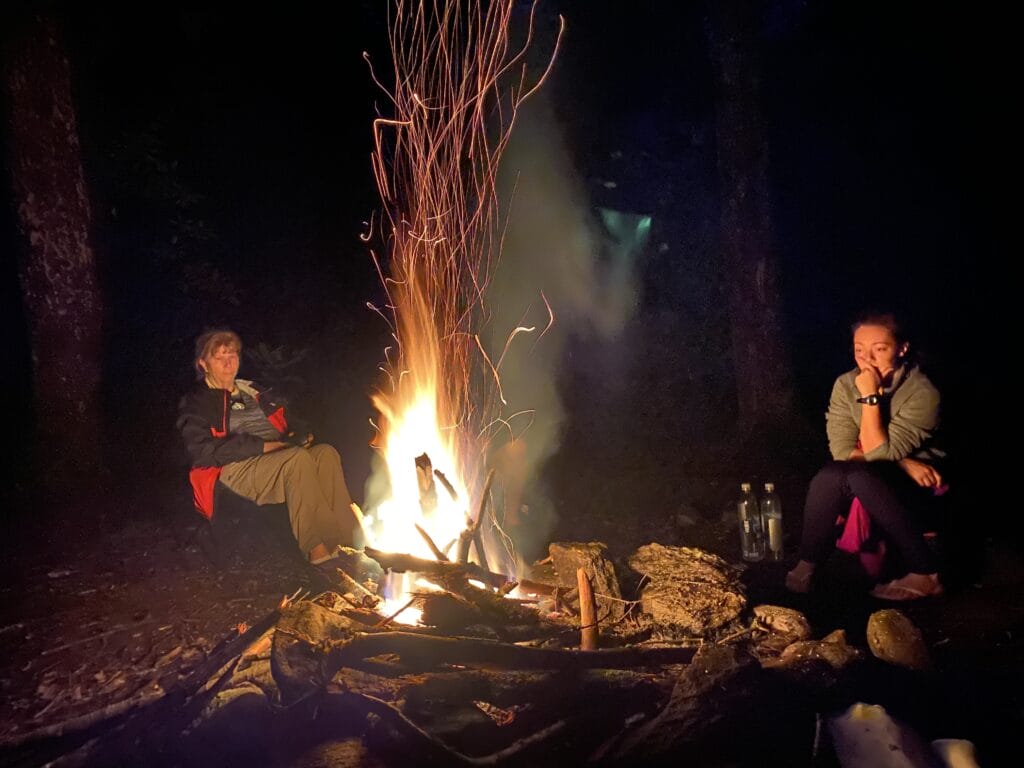 Here's what will happen as we head into winter:
We'll get a spell of cold weather, weather cold enough to make you think twice about going out for more than a couple hours, let alone an overnighter. Then, one Tuesday or Wednesday you'll check the weekend forecast and you'll see — whoa! — a break in the cold for the weekend ahead. A significant break, in fact: daytime highs topping 70, overnight lows in the low 50s. The kind of weather you dream of, not just in winter, but year round. Suddenly, inspired by this promise of warmth the last place you'll want to be is indoors, even at night.
Suddenly, you'll feel like camping!
Just one problem. Two, actually.
One, you don't even know if any campgrounds are open. And two, you don't have any camping gear.
Both issues, you'll be glad to learn, are easily solved.
A Skeleton Crew of Campgrounds
Come winter, a lot of campgrounds do close — but not all. North Carolina State Parks keeps open a skeleton crew of campgrounds throughout the state, including:
Falls Lake State Recreation Area
In peak season, Falls Lake has more than 300 campsites open at four areas; come winter, two remain in operation:
Shinleaf (hike-in, group camping). The hike-in sites require a walk of anywhere from about 30 yards to a half mile; there are nine group campsites that can accommodate larger groups.
Rolling View. Loop A of its traditional family campground is open, with 28 sites, as is the group camping area.
Find more information and reserve a spot here.
Jordan Lake State Recreation Area
Jordan Lake pares down significantly once cold weather arrives, going from more than 1,000 campsites to 279.
Poplar Point. Loops C, E and F are open year-round. All sites are first-come, first-served.
Medoc Mountain State Park
Medoc Mountain has 34 traditional family sites available throughout the winter.
Both the park's group sites and about half of its 73 traditional family camp sites are open in winter.
Morrow Mountain State Park
Morrow Mountain's group campsites and Camping Area C, with 36 sites, remain open.
GetCamping! (With our gear!)
The answer to your second problem, of no gear? Our GetCamping! program! GetCamping! aims to make your introduction to camping as easy and inexpensive as possible, by providing the key pieces of camping gear you need.
Tent. Shelter is key. Our kit includes the 4-person Kaiju 4 tent from The North Face. It provides plenty of room to sleep, even hang out. The tent includes a rainfly to keep you protected from the occasional sprinkle, and is well-vented to make sure you sleep through the night with a constant supply of fresh air.
Air mattress. The big complaint about camping: I don't want to sleep on the ground. With the ExPed inflatable sleeping pad, you'll sleep on a three-inch cushion of air. Nearly as restful as your designer mattress back home.
Camp chairs. Face it, part of the appeal of camping is the opportunity to sit and relax — for extended periods. Now, the chairs you use at the beach are nice — for a half hour or so. But imagine a camp chair that captures the magic of your favorite recliner, but can tote from the campsite to the lake to an overlook for sunset. That chair your picturing is the one we provide, the GCI Fireside Rocker. Two are included with each kit.
Hammock. Take your relaxation to the next step, the nap step, with a camp hammock from Eno.
Tarp. A tarp provides an extra layer of insulation and protection for your tent floor.
Lights. Just because the sun calls it a day doesn't mean you have to. We supply you with a Black Diamond Spot headlamp to help and a lantern to help you navigate the evening.
Kitchen. Even if you're just warming up meals brought from home, you'll need cooking gear. Our kit includes a Primus two-burner propane stove (including gas canister), and a stainless steel cookset.
That's not everything you'll need, but likely everything you need that you probably don't already have. When you register, we send you a list of stuff you likely have around the house that substitutes nicely for what you'll need to camp. Rental cost for two nights is $195.
Learn more and book a rental here.
Speaking of warm weather weekends, have you seen the forecast for this weekend?