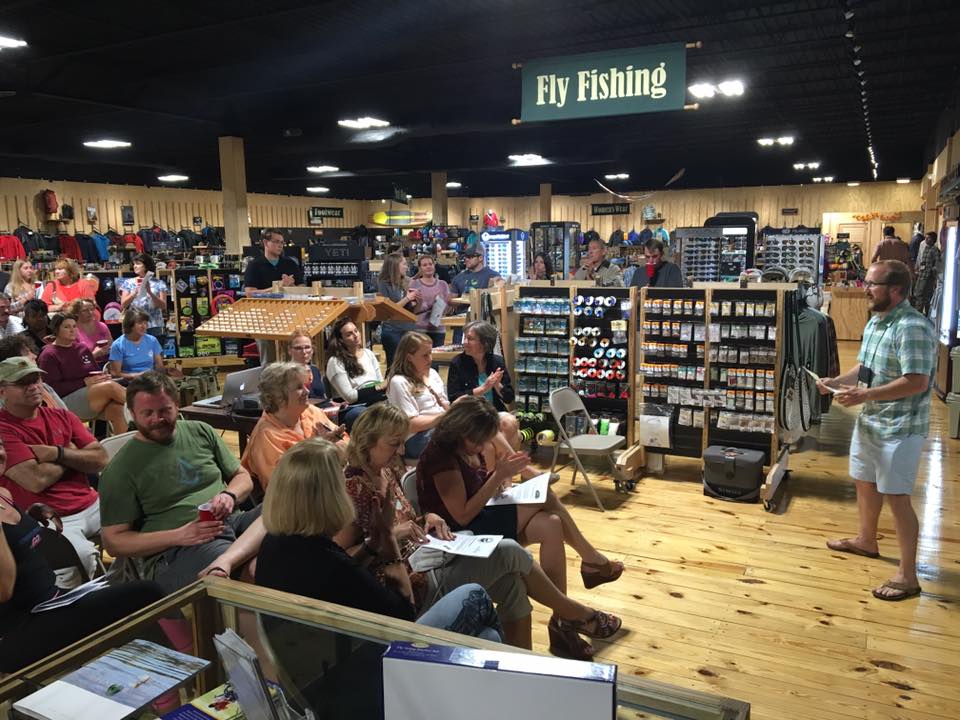 VIRGINIA BEACH — A customer named George frequently drops into our 3-year-old shop in Virginia Beach. He usually buys something — a flashlight or the like — but mostly he just likes to talk gear and the outdoors. Sometimes he ducks into Sugar Plum Bakery on Laskin Road and brings the staff cupcakes.
"It's really nice," says shop manager Zach Roberts. "It's kinda like Cheers," he adds referring to the fictional Boston bar where everybody knows your name. "It's homey."
It's that kind of atmosphere, homey and  inviting that helped earn the Virginia Beach store readers choice awards from two prominent Virginia publications: Virginia Living Magazine (Best Outdoor Retail Store / Eastern Region) and Coastal Virginia Magazine (Gold for Best Recreation Equipment Store. The store also scored the Hampton Roads Retail Alliance's accolade as Best Retail Store Up and Comer.
So how has our store become the best at what it does in just three years?
Easy, says Zach, our people. The kind that folks like George like talking to.
"That's the thing that has set us apart," says Roberts, who joined Great Outdoor Provision in our Greensboro store in 2010 and moved to Virginia Beach to open this, our seventh store, in 2015. "Everyone who comes into the store is blown away by how friendly and attentive we are."
Assembling a good staff, as any business owner knows, is a challenge. But to put together a strong team in such a short amount of time? And starting from scratch?
"We put up signs around the storefront letting people know we were coming," Zach says of how they launched their search for local employees. We had several folks recommended by the owners of the property here. We ran an add in Craig's List and probably got the most resumes from that.
"Some," he adds, "were by happenstance." Zach tells the story of going to lunch at Taste, a nearby sandwich shop, with Great Outdoor Minister of Culture Chuck Millsaps and marketing guru John Millsaps to discuss the new store. The waitress overheard their conversation. 
"Are you hiring?" she asked. 
"She wound up probably being my most competent manager when the store opened," says Zach.
"We don't have a stringent interview process," Zach says. "I spend some time in conversation with each applicant, and I do ask some specific questions. But mostly I'm trying to see how personable they are, how friendly. Are they good at carrying on a conversation? Do I have to drag things out of them?"
Zach does the initial interview. If he likes a candidate, "two or three managers conduct a second interview. It keeps me from having a blind spot."
"We like to treat people walking in the door the way you treat people when they come to your house, to talk to 'em like another human being."
That helps create a sense of community that isn't always common in a retail outlet. A good example of the store's Virginia Beach community is the number of folks in its GetHiking! program, which offers hikes and trips throughout the region. Of the seven Great Outdoor stores that have GetHiking! or an equivalent program, Virginia's Beach's is the newest — and, with 3,473 members, the biggest.
Of course, friendliness and knowledgeable sales associates can only take you so far. You have to great merchandise, especially in an age of internet buying.
"Everyone who lives in this area can sit at home and buy what we have in the store online, so why should they leave, drive through traffic and come here?" Zach says he tells his staff. "The reason is going to be you. It's going to be how you treat them and the relationship they develop with you. You become their expert on this stuff. They're going to always want to come back and talk to you. If they know you by name, you're doing your job."
Based on what readers of Virginia Living and Coastal Virginia think, as well as the Hampton Roads Retail Alliance, Zach and his crew are definitely doing theirs.