You may have heard of land trusts, you may even have a vague idea of what they do: save environmentally sensitive lands from development.
That much is true. But you may also think that once that land is saved, it's squirreled away, kept  under lock and key and out of reach of the public.
That part's not true. With National Land Trust Day this Saturday, it's a good time to appreciate the vital conservation work our local land trusts perform.
Some of the lands spared by land trusts are ecologically sensitive to the point they would suffer from extensive human visitation; thus, access may be restricted. But the majority of land trust acquisitions are open for public exploration. In fact, some of the places you love to explore most have been made available courtesy your local land trust.
Since the 1980s, North Carolina's 24 local land trusts have saved more than 371,000 acres of land in 2,300 different locations statewide. Often, that land is either given or sold to state or federal land managers. If you've hiked at Eno River State Park in the Triangle, for instance, you've likely hiked on land acquired by the Eno River Association. Likewise, if you've explored at South Mountains State Park you've been on land made public courtesy the Foothills Land Conservancy. Even the National Park Service benefits from the work of local land trusts: the Blue Ridge Conservancy, Conservation Trust of North Carolina, Southern Appalachian Highlands Conservancy and Foothills Conservancy are all involved in protecting the esthetic and recreational value of the Blue Ridge Parkway.

Some of the land trusts' best saves are right in your own backyard.
"It's great to have national parks and forests for that big summer vacation," says Camilla  Herlevich, executive director of the North Carolina Coastal Land Trust, "but it's even better to have places close to home to hike, paddle, and explore every day. Land trusts are focused on saving local land, nature preserves and creeks right here in your community."
The Coastal Land Trust has saved more than 61,000 acres along the coast, including Wilmington's Carnivorous Plant Garden and the popular Brunswick Nature Park.
"When you support the Coastal Land Trust, you make it possible for us to save more great places to get outdoors and enjoy nature," says Herlevich.

Likewise, the Triangle Land Conservancy has six preserves open to the public that offer unique experiences far from the maddening crowds. At the White Pines Nature Preserve south of Pittsboro, for instance, it's possible to take a cool mountain hike on a hot summer's day; at the Johnston Mill Nature Preserve you can take a trail run through a grove of magnificent beech trees.
It's in our metropolitan areas that the push to save these lands is most pressing.
"The Charlotte region is expected to lose at least 30 percent of our remaining green space over the next 15 years.," says Tom Okel, executive director of the Catawba Lands Conservancy. "We still have the opportunity to conserve what remains of our rapidly disappearing natural lands, but we must act now."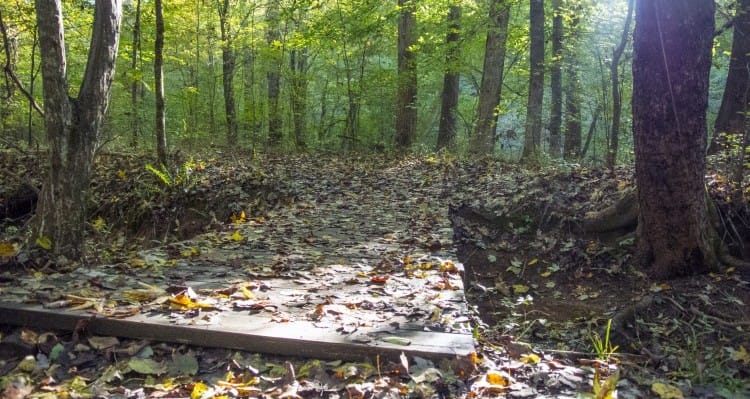 While the Catawba Lands Conservancy is spearheading the Carolina Thread Trail, an ambitious effort to link trail in a 15-county area surrounding Charlotte, saving land is about much more than creating places to play.
"This will be critical to safeguard our water supply, protect wildlife habitat and preserve places where we and future generations can enjoy nature," says Okel.
The Piedmont Land Conservancy is actively working on two acquisitions along the Dan River, a wonderful paddling destination recently threatened by a coal ash spill.
While the need to protect our land is greater than ever, the challenges are as well.
"State funding cuts have been particularly severe for conservation efforts, just when our need to protect critical lands for the future is at an all time high," says Chad Jemison, executive director of the Triangle Land Conservancy.
Policy changes have also hurt.
Last summer, the General Assembly voted to end the state's Conservation Tax Credit. The first of its kind when enacted in 1983, the credit was instrumental in encouraging landowners to commit lands to conservation in return for tax breaks. With its repeal effective Jan. 1, 2014, the trusts could have panicked.
Instead, they pounced.
Rather than wistfully watch as the credit vanished, the Conservation Trust of North Carolina, which in addition to directly protecting land also promotes and assists the state's other local land trusts, acted to make the most of the credit's remaining six months. CTNC's Associate Director Margaret Newbold came up with the idea for "Money in the Ground." CTNC pulled together $1.5 million — $1 million from its revolving fund, $200,000 from its operating reserve and $300,000 from an anonymous donor — to help local land trusts complete pending donations and acquisitions that otherwise wouldn't have been possible by year's end.
By the time the credit expired on Jan. 1, 17 of the state's 23 land trusts had submitted requests for 56 projects covering nearly 6,000 acres. Their combined donation value: $20.5 million.
"We were faced with a situation of trying to make lemonade out of lemons," says CTNC executive director Reid Wilson.
He adds, "With elimination of the Conservation Tax Credit and with state funding for land conservation dramatically reduced, now more than ever we need people to support their local land trust."
His immediate recommendation?
"Stop by Great Outdoor Provision Co. on National Land Trust Day, buy some gear, then go on a hike or paddle!"
* * *
On Land Trust Day in June each year, Great Outdoor Provision Co. donates a percentage of all sales to local land trusts in Charlotte, the Triad, the Triangle, the Greenville/Wilmington area and in Virginia areas of Charlottesville and Virginia Beach.