Summer paddling in the Piedmont can leave a flatwater river paddler a little melancholy: the lack of rain can all but relegate the paddler to lake paddling.
All but.
Not every Piedmont river lacks water come summer. Here are seven we find pretty reliable — and a lot of fun.
North Carolina
Cape Fear River
Jordan Lake to Wilmington
171 miles (13 sections)
In his "Paddling Eastern North Carolina," Paul Ferguson lists 13 trips from its departure from Jordan Lake to downtown Wilmington. In the Piedmont (but on the cusp of the coastal plain) a favorite is the 7.9-mile run that begins above Raven Rock State Park and ends in Lillington. You'll find a handful of Class I rapids and a Class II drop at Lanier Falls. The river is exposed; bring sunscreen. Learn more in "Paddling Eastern North Carolina."

Deep River
Chatham, Lee and Moore counties
37 miles runnable, with shorter options
The Deep is neither dammed, nor wide, nor deep — yet even in bone dry August it finds enough water to keep you from more than a light scrape or two. Six access points make for a range of paddle options. A favorite, the 5.8-mile run from Deep River Park to the US 15/501 Access, along which you'll encounter the Mayanesque Endor Iron Furnace, river right. Check out your paddle options on the Triangle Land Conservancy's Deep River Paddling Guide.
Neuse River 
Raleigh to New Bern
275 miles, with lots of options
Various
Summer paddling in the Piedmont doesn't get much better than on the dam-controlled Neuse: it's nearly always runnable, and that's especially good news for Raleigh residents. From its release at Falls Dam to the Johnston County line 27.5 miles downstream, the City of Raleigh offers five access points to the river (you can even run a foot or bike shuttle on the paralleling greenway). Learn more here.
Yadkin / Pee Dee River
W. Kerr Scott Reservoir in Wilkes County to High Rock Lake in Davidson County
125 miles
Seventeen access points translate to a lot of great paddling and several 2- to 3-hour trips. And despite heading down from the western reaches of the more ripply Piedmont, you'll find pretty calm water. A favorite is the 6.9-mile run from Shoals Access in Pilot Mountain State Park to the Donnaha Access maintained by the Yadkin County Recreation Department. Learn more about the Yadkin and paddling options from the Yadkin River Keeper.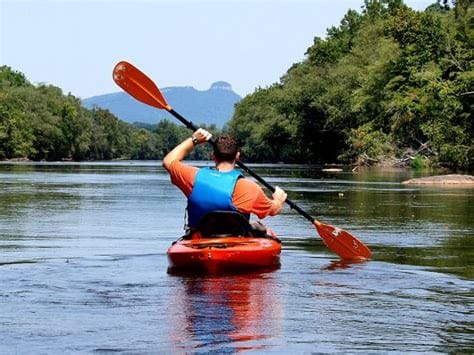 Virginia
Appomattox River
Farmville, Va.
4 miles / 3 hours
The Farmville Blueway manages to pull off something unique for rivers: a loop trail. And not just one loop, but two. Taking in the Appomattox, Buffalo Creek, Wilick's Lake and The Canal, the loops combine for four miles of paddling — and no shuttle! Learn more from the Friends of the Appomattox River.
James River
From the Appalachian Mountains to Hampton Roads
Various 
The James is one of those mountains-to-sea rivers where the whitewater isn't where you expect it. Through Richmond, the river drops more than 100 vertical feet in 2.6 miles, creating Class III and IV river play. Elsewhere on its 348-mile run, the James offers beginner-friendly paddling with a helpful current. Learn about access from the James River Association.
North Carolina and Virginia
Dan River
Southern Virginia northern North Carolina
214 miles
So many options on this frisky river that starts in Patrick County, Virginia, and ends in Kerr Reservoir. The Dan River Basin Association lists seven paddle trails, ranging in length from a mile and a half to 28 miles, an after-work quickie or a really full day paddle. A favorite is the 5.9-mile run from Hanging Rock State Park to Moratock Park, where you'll find Class I & II water. Learn more from the Dan River Basin Association.
For more information on paddling in the region, check our GetPaddling! Resource Page.