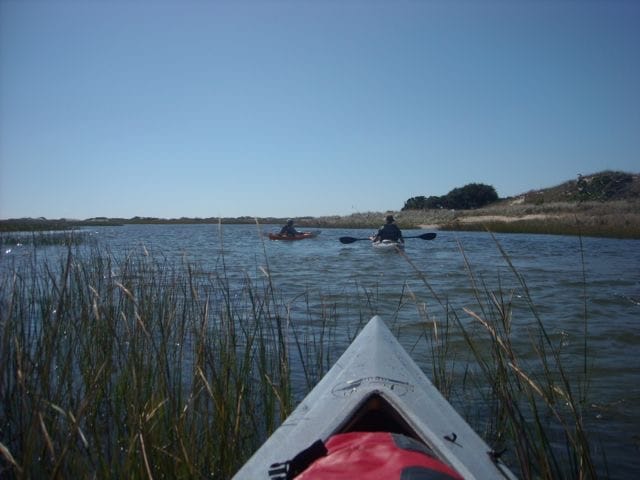 As part of our March-long Spring Into Adventure series, we look at ways you can take advantage of the longer, warmer days ahead. On March 1, we went in search of spring wildflowers. Last week, we looked at where and how you can take advantage of Daylight Saving Time, which began Sunday. Today, we look at five waterways especially suited for an early-season paddle.
Here's a thought: if you were paddling on Falls Lake on Jan. 31 and your kayak capsized, you would have been flailing about in frigid 43-degree water. But this weekend should you head out and flip, you'll be in 67-degree water. Still chilly, but a far cry from January — and incentive to think about getting the kayak or canoe out and taking a little paddle trip. Where? Well, North Carolina's got all kinds of great paddling options: you can find 80 at our online guide to adventure, on our website. Here, we highlight five spots we feel are particularly well-suited to early spring.
Lake Wylie Dam
Rock Hill, S.C. (about 30 minutes from downtown Charlotte)
On the Catawba River below the Lake Wylie dam, you can have fun, or you can have fun! At low water levels (or "lower," perhaps, since the river is dam controlled and thus doesn't get that low) the rocks that dot the river make for some fun Class I paddling. But when the water is up, it's time to grab the playboat for some Class III fun! Don't be intimidated, though: of this 31-mile run of the Catawba, the more challenging portion is its 18-mile midsection; if you live in Charlotte and have a hankerin' for a more mellow paddle, the six miles from the Fort Mill Access just below the dam down to River Park should do the trick. Nice whitewater close to town.
More info here.
Dan River
Westfield (about 30 minutes north of the Triad)
Paddling the Dan is like paddling a mountain stream minus, a) the drive to the mountains, and b) having to worry about whitewater that's too frisky. Not that you won't run into to some friskiness: our favorite stretch, the 4.3 miles from the Moore Springs Campground Access to the Hanging Rock State Park access, has a Class I rapid or two. But mostly, the joy here is paddling a stretch of river bound to the south by the thousand-acre Hammer-Stern Wilderness Preserve and by impressive bluffs. No boat, no problem: several outfitters serve the river and also provide shuttle service.
More info here.

Merchants Millpond
Gatesville
This 760-acre retired millpond in the northeast corner of the state, not far from the Great Dismal Swamp, is the first place we think of when we think of spring paddling. Or summer paddling. Or fall, or winter. For sheer sense of swamp adventure, this is hard to beat: from the boathouse paddle into grove of cypress and tupelo dripping with Spanish moss. The birdsong suddenly takes on a menacing, tropical "Creature of the Black Lagoon," note as you part the alligator weed and probe deeper into the swamp — following, of course, the well-marked paddle trail, which is to say that while Merchants Millpond projects an edge-of-the-world feel, odds are you'll make it back. Inexpensive canoe rentals on site.
More info here.
Falls Lake
Durham, Raleigh
For the most part, this 12.410-acre noodle-of-a-reservoir is the domain of water skiers and bass boats. But at its northwest extreme, where the Eno and Flat merge to loosely begin the lake, there's an indecisive weave of water that guaranteed to take you far, far away from the nearby Triangle. It's an area of open water that suddenly devolves into an intimate passage that empties into a marsh that rediscovers big water. When you put in at the Eno River boat ramp and head downstream (you can also paddle upstream, almost to Penny's Bend) prepare for at least a three-hour tour. Also bring a good map.
More info here.
Bear Island
Hammocks Beach State Park
This is a good paddle year round: what makes it especially good right now? It's the only way to get to the island. After an easy 2-mile paddle through a shallow, relatively protected marsh on a well-marked canoe trail, this three-mile-long barrier island awaits. Walk the lonely beach front devoid of the sun worshippers and picnickers who will soon descend, return through inland dunes and maritime forest. Note that this all ends once Hammocks Beach State Park fires up its ferry service for the season, on a limited bases beginning April 1, full-time, seven days a week from Memorial Day through Labor Day. Until then, you'll be so enchanted you won't want to leave — and you needn't (at least for a few days), thanks to the island's 14 campsites.
More info here.