Noooooooo! August? Already!? It can't be! My summer hasn't even started …
Alas, the calendar does not lie. And yes, while in the meteorological sense, summer doesn't end until Sept. 22, for all practical reasons — beach vacations, school, the end of early-release Fridays — it pretty much ends in two, maybe three weeks.
The good news? If you, like us, feel summer is passing you by, there's still time for a save, still time to Save Our Summer. And we're here to help.
Over the next three weeks we will give you some options for summer fun that will let you cruise into Labor Day weekend thinking, "You know, not a bad summer. Not bad at all!"
Since we come at this on short notice and you may already have plans for part of this weekend, we'll start with adventures close to home, specifically, hikes near where you live that include the allure of water in the form of a refreshing dip.
1. Hanging Rock State Park
Danbury
The Lake (via Moore's Wall Loop Trail)
4.7 miles
Like to work for your reward? Prepare to punch the clock at Hanging Rock. Start at your carrot, the bathhouse for the 12-acre pond fed by Cascade Creek. Take a moment to get inspired by the beach, the cool, dark waters, the squeals of surprised swimmers leaping into those cool, dark waters from the mid-lake platform. Then, pick up the Moore's Wall Loop Trail for an invigorating climb up 2,579-foot Moore's Knob. Take in the 360-degree view, then continue the loop, heading down a natural staircase back to the bathhouse, the awaiting lake and some squealing of your own.
More info and directions, here.
2. Eno River State Park (Pleasant Green Access)
Durham
Laurel Bluffs Trail: Eno Quarry
2.9 miles
A gorgeous hike capped by a dip in the Eno Quarry at midpoint. Officially, swimming in the quarry, which yielded rock for road construction a half century ago, is frowned upon. But you will spy few frowns on a hot summer's day among the hundreds of swimmers who take to the spring-fed lake on various flotation devices. (More impatient hikers who prefer not to lug their sea horsey more than need be can trim the hike to a half mile by starting from the state park's Cabe Lands Access.) Warning: Do not dive into the quarry — submerged rock rims the shoreline. Rather, ease yourself into its refreshing waters.
More info and directions, here.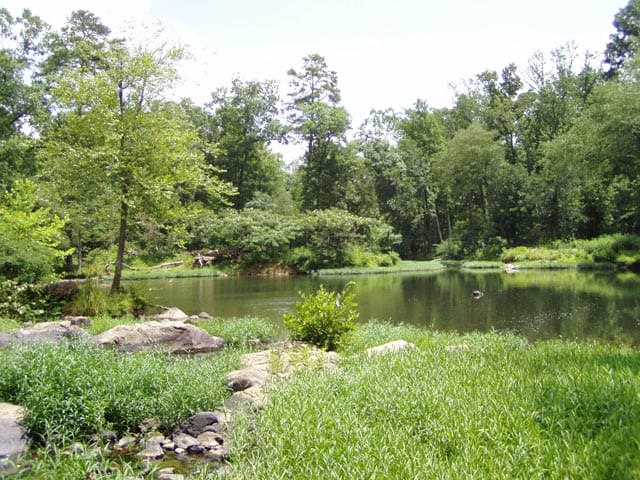 3. West Point on the Eno city park
Durham
South River/Sennett Hole trails: Sennett Hole
1.5 miles
From the dam that continues to fuel the park's working mill, stroll up the millpond on the South River Trail. Then, after crossing Warren Creek, pick up the Sennett Hole Trail. It's a lovely three-quarter-mile hike, taking in sycamores, oaks and other behemoths that line the Eno. Sennett Hole Trail ends at what is arguably the best swimming hole in the Triangle, the Olympic-size pool for which the latter trail gets its name. Even on the hottest August day, you'll find a thermocline six feet under revealing a shockingly cold chill. Rock outcrop surrounding the hole provides ample opportunity for warding off said shockingly cold chill. Warm, repeat.
More info and directions, here.
4. Stone Mountain State Park
Roaring Gap
Stone Mountain Loop Trail: Middle and Lower Falls
4.5 miles
Mountain water without actually going to the mountains. Stone Mountain occupies a rugged perch at the base of the Blue Ridge Escarpment, the demarcation line between the mountains and Piedmont. As such, its rocky locale and natural catchments trap, at least momentarily, water  flowing down the escarpment in all sorts of locations. On the popular 4.5-mile Stone Mountain Loop Trail, you'll find spurs to various waterfalls and pools. One of the most popular and accessible: Middle and Lower Falls, off their eponymous spur trail. Classic waterfall pools form at the base of these falls, making the 4.5-mile roundtrip effort worth it for even the most casual hiker.
More info and directions here.
5. Morrow Mountain State Park
Albemarle
Hattaway Mountain Trail: CCC pool
2 miles
The best hike is one that gets the work out of the way early. By that measure, they don't get much better than Hattaway Mountain, which starts out going up, up, up to a dry, rocky ridge, then takes a comparatively mellow descent back to the trailhead where you will be rewarded on two fronts. If you're a history buff, you'll love the stonehouse swimming pool, one of thousands of remaining legacy's of the Civilian Conservation Corps of the 1930s. If you're wiped and sweaty from hiking, you'll love that this remains a working pool (though only until Aug. 13, so hurry), its cerulean waters offering a siren song of sparkling rebirth after a climb.
More info and directions here.