Picture, if you will, a 1,175-mile trail hiked in its entirety in one day. And not by one person, but rather by a fleet of well-organized hikers hoping to bring attention to what, amazingly, still is a hidden gem in the hiking world.
Now picture Saturday, Sept. 9, 2017.
That is the goal of the Friends of the Mountains-to-Sea Trail, as they set out to make sure the entire trail is trod in one 24-hour period by at least one person. Every inch, from the 6,644-foot summit of Clingman's Dome on the Tennessee line, to long mountain stretches along the Blue Ridge Park, through MST trail town par excellence Elkin, through the Sauratown Mountains, down the Haw River, along the Eno River, down Falls Lake and on to the coast to, finally, Jockey's Ridge on the lip of the Atlantic. All 1,175 miles, from the down-and-dirty 682 miles that are ready to hike, to the just-under 500 miles that are temporarily routes along mostly back roads.
So, the organized among you may be wondering, how do you ensure that all 1,175 miles are hiked?
You divide and delegate.
First, divide. For purposes of MST-in-a-day, the trail has been divided into 18 segments, each roughly 65 miles in length. Then you further subdivide each segment into day-hikable legs of roughly 3 to 5 miles. Then, for each leg, you create a Meetup page, where people can sign up to hike.
Eighteen segments and more than 350 legs, that's a lot to keep up with! you may be thinking. This is where the "delegate" comes in.
As you may or may not know, the Friends of the Mountains-to-Sea Trail is largely a volunteer-driven group. It has two full-time employees, two part-time. Those three FTEs could not forge a trail across North Carolina on their own: in 2015, more than 700 volunteers contributed 30,000 hours toward completing the trail. Thus, there are 18 Segment Leaders, whose job it is is to make sure that every segment in their jurisdiction gets hiked.
So, how can you help? By hiking, of course! Here's what we recommend:
Go to the MST in a Day home page, here.  Learn more about the day, then scroll down to the "Select a Trail Segment to Hike or Paddle." (Did we mention that you can also participate by paddling the MST's alternate river route along the Neuse River to the coast?)
Click on a segment (the little hiker icon). Up will pop a box identifying the section. Below that, you'll find a table describing each leg (start/finish, length, surface, degree of difficulty, GPS coordinates, that kind of thing).
Inspired, you'll want to click on the Sign Up Now box. You'll be transported to the Meetup page for that Segment, where you can further peruse each leg — and sign up. And yes, you can sign up for more than one leg. (And don't be alarmed by what appears to be a 7 a.m. start time; you can hike your leg anytime during daylight hours.)
You'll notice when you go to sign up that there are only 5 spots allotted for each leg. That's to spread the joy, to help make sure every inch of trail gets some love. It is not to be dictatorial: if you and five buddies want to hike a leg together, there will not be monitors on the trail taking roll. By all means, gather a group and hike.
Stymied by the preponderance of great legs to sign up for? Need a little help? Every day this week, we'll highlight a leg you may not know, but that you should acquaint yourself with, on Sept. 9, if not sooner.
Our first suggestion:
Monday: Segment 10, Leg 5, Eno River to Falls Lake, 4.1 miles. One of our favorite stretches of the MST on its 120-mile run through the Triangle. Hiking west to east, the trail begins in a mature forest, then climbs a bluff some 80 feet above the Eno River (great views to the north in winter). The trail stays high for a bit, brushing meadows, briefly piggybacking on old farm roads. Then, for about the last third of a mile it dips into a bottomland hardwood forest full of healthy giants. A great escape for Triangites in their own backyard. Learn more and sign up here.
Tuesday: Segment 10, Leg 1, Eno River to Falls Lake, 2.5 miles. OK, we're going with another stretch of Segment 10, and here's why: the guy who writes these promotions (Joe Miller) is also the Segment Leader for Segment 10. Thus, it's his job to make sure all 22 of his segments are spoken for — hence, the self interest. (We'll get to the other segments, don't worry.) As for Segment 10, Leg 1, there are so many reasons to hike this stretch. After crossing under Pleasant Green Road, you enter an bottomland region, they begin an ascent that includes a couple of switchbacks through rocky terrain festooned with mountain laurel and holly (creating a tunnel before long). Atop the bluff (this trail, in Eno River State Park parlance, is called the Laurel Bluff Trail), you'll catch glimpses of the Eno River 80 feet below. There's more high passage, then descent through a pine forest into wooded bottomlands that take you to the old Eno Quarry. The trail goes two directions around the quarry lake; go right to prolong your visit and enjoy the dark green waters rimmed with pine. From there, it's about a quarter mile to trail's end, at the Cabe Lands Access. Good protective canopy for a hot September day. Learn more and sign up here.  
Wednesday: Segment 16b, Legs 2, 3, 5, Croatan National Forest, between 5 and 6 miles each. Hiking the coast in the heat of summer is a sweaty proposition no matter what. But on the gravel forest roads that the MST piggybacks on periodically at the coast, summer's heat is slightly less onerous. It's not as tight and stuffy as on classic single track, not as prone to surprise appearances of critters of the slithery sort (you usually see them well in advance on a road), not quite as … intimidating. Rather, a certain serenity settles in on a long forest road ramble, and because the roads are few and simple, you can lose yourself without getting lost. Thus, we recommend these three segments of Segment 16b, which runs, essentially, the width of the Croatan National Forest. Note: we've tagged these three legs because they are all on gravel road; the other seven legs on this stretch include or are entirely composed of paved roads, which are more exposed, wider and contend with motor vehicles. Learn more and sign up here.
Thursday: Segment 13b, Leg 5, Salters Lake / Jones Lake State Park, 5.1 miles. This stretch offers a great sampling of one the best stretches of MST in the state. The trail plays peak-a-boo with this 224-acre Carolina bay lake, one of 500,000 of the mysterious bays dotting the Southeast. This is one of the largest surviving bays, oval lakes that may or may not be the result of a meteor shower a really long time ago. In places, you'll be enveloped by dense stands of bay trees, in other places, open pine savannah. Best of all, if it's been a sweaty hot hike, the finish line includes a dip in the cool, tannic waters lapping at the Jones Lake swimming beach. Ahhh … . Learn more and sign up here.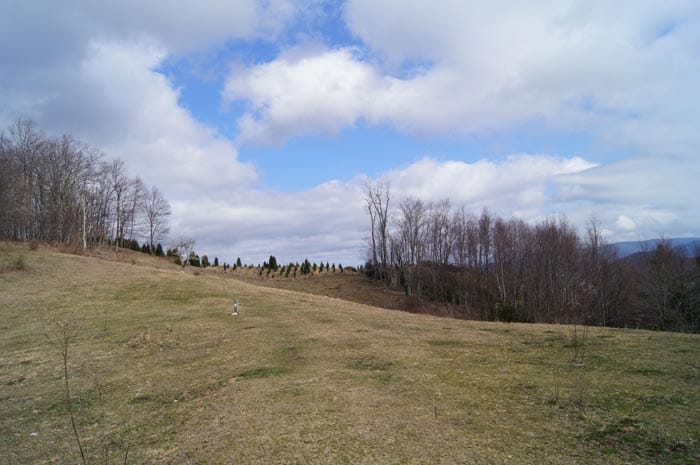 Friday: Segment 5, Leg 3, Blue Ridge Parkway, 3.8 miles. When it comes to the 300 miles or so of MST through the mountains, you can't go wrong — you can only go righter. Thus, one of the righter legs of the trail, in our opinion, is the 3.8-mile run between the Boone Fork Parking Area and Holloway Mountain Road. Hiking from the west, the trail has just descended a spectacular rocky stretch at the base of Grandfather Mountain. Here, the trail's complexion changes, entering an enchanting, mature forest of pine and hardwood that's as peaceful a stretch of mountain trail as you'll find. Then, it emerges into a series of small, rolling meadows that, in early September should be full of green. Intimate at the beginning, open at the end, delightful throughout. Learn more and sign up here.
A leg a day
With so many legs, how do you know which to choose? We're going to try and make it easier for you. From now through Sept. 8 (or until every leg is filled), we will highlight a leg-a-day, giving brief insight into why a given leg deserves your presence on Sept. 9. Each week will focus on legs within one of the event's 18 segments. Let us begin … .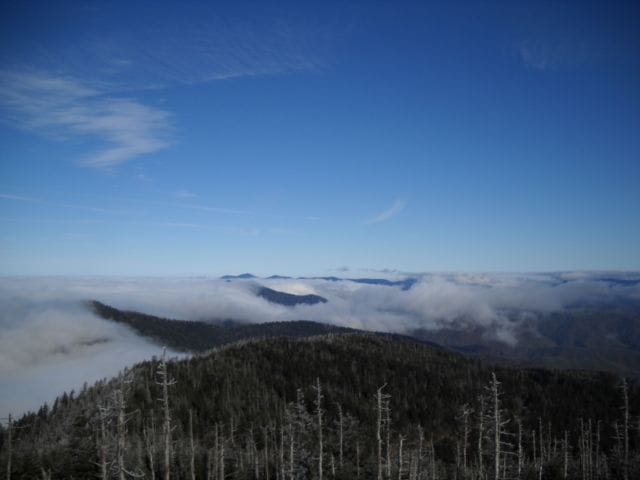 Segment 1 (1a & 1b): Clingman's Dome to Waterrock Knob
Currently, there are two Segment 1 options: Segment 1a: Peak-to-Peak, and Segment 1b: River Valley. We borrow from both options.
Segment 1b, Leg 8: Pinnacle Park to Waterrock Knob. 6.0 miles. This is for the MST-in-a-Dayer who wants a workout — a good workout. From the Pinnacle Park parking lot above Sylva, the trail climbs — and climbs and climbs. There's the occasional short & stout, but largely switchbacks that guide you above the valley floor and eventually, after 6 miles, gets you to the ridge and Waterrock Knob, which at 6,293 feet is the 16th highest mountain on the East Coast (bragging rights to boot!). More info and sign up here.
Segment 1a, Leg 1: Clingman's Dome to Fork Ridge Trail & Clingman's Dome Road. 4.0 miles. There's a certain cache in being able to say you hiked Clingman's Dome, the westernmost end of MST (there'd be real cliche to say you hiked both Clngman's Dome and the trail's easternmost end, at Jockey's Ridge — which might be possible if your Learjet awaits). From Clingman's spaceship observation deck, piggyback on the Appalachian Trail through spruce-pine forest for a short spell before hitting Mount Collins and descending to Fork Ridge Trail. More info and sign up here.
Segment 1a, Leg 2: Fork Ridge Trail at Clingman's Dome Road to Smokemont Campground entrance. 21.5 miles. Now, if you're at all familiar with this area, you're likely thinking, "Clingman's Dome road to Smokemont … that's a fair piece." And you would be correct, 21.5 miles, underscoring the beauty — and challenge — of this run: there are no intersecting roads — and thus, no encounters with civilization, to shorten this leg, a leg that, in addition to drop-dead-Smokies-gorgeositude, passes the last campsite of famed writer and Southland advocate Horace Kephart. More info and sign up here.
Segment 1a, Leg 10: Soco Gap Overlook to Waterrock Knob. 4.2 miles. Whereas the River Valley option of Segment 1b culminates in topping Waterrock Knob from Pinnacle Park, the Peak to Peak option of Segment 1a gets you to the same destination via Soco Gap. This is a shorter approach to the Knob, 4.2 miles; offers an easy shuttle (from MP 455.5 on the Blue Ridge Parkway to MP 451.2); and, like the 1b option, also exposes you to the small convenience store at Waterrock Knob, where, on September 9, we're guessing an icy soft drink at trail's end will sound mighty good. More info and sign up here.
Segment 1a, Leg 5: Pin Oak Gap to Spruce Mountain Trailhead. 2.5 miles. OK, 21.5 miles in the Smokies isn't for everyone, especially those of us of the non-superhiker variety. The good news: there are more moderate legs available — Leg 5, for instance, which runs 2.5 miles mostly on gravel road with a little pavement thrown in. Note: this road is open to one-way traffic (you'll be hiking against the flow), which means that if 2.5 miles proves too much, you can always hitch a ride (or hail an Uber). Despite the length, this stretch is still rated strenuous. More info and sign up here.
Segment 2: Waterrock Knob to Pisgah Inn
Leg 1: Waterrock Knob to Woodfin Cascades Overlook. You want to do your part to help the Friends of the Mountains-to-Sea Trail reach their goal of having every inch of the 1,150-mile statewide trail hiked on September 9, but truth be told, you're not much of a warm-weather hiker. On this, the "Mile-Hi" stretch of the MST, you'll find the coolest hiking available in the Southeast the weekend after Labor Day. You'll start at 6,293 feet: Waterrock Knob; packing a light fleece would not be a bad idea. The additional good news about this 4.7-mile stretch? You'll finish nearly 2,000 feet lower, at the 4,345-foot Woodfin Cascades Overlook. Don't be deceived, however: this is still rugged terrain that earns a "Strenuous" rating. Learn more and sign up here.
Leg 6: BRP Milepost 426.5 to NC 215 crossing. Jackpot time if you like hiking in a bonafide designated wilderness area, in this case the Middle Prong Wilderness. The Middle Prong gets less attention than it should, mainly because it lives in the shadow of its glamorous wilderness brother to the east, Shining Rock. Yet Middle Prong is actually a bit more wild, dropping off the north face of the Blue Ridge in dizzying plunges that are about as challenging going down as they are up. Fortunately, this 6.1-mile stretch of the MST gives you a taste of the Middle Prong's wilderness without the pain, running, as it does, along the area's elevated southern edge. Learn more and sign up here.
Leg 8: Black Balsam Access to Graveyard Fields. This 3.1-mile run captures the essence of the Shining Rock region (though it's just outside the actual wilderness). There are forests of black balsam, the fir you find commonly in Canadian forests but only near 6,000-feet-and-above in the Southeast. There's rocky landscape more commonly associated with the West. There's the moonscape of Graveyard Fields, the falls along Yellowstone Prong, and there are views. A great trail to enjoy on the 9th of September. Lots of up-and-down; rated Strenuous. Learn more and sign up here.
Leg 11: US 276 to Pisgah Inn. This 6.4-mile stretch is worth it on its natural merits: for the most part, it's a mite flatter than the rest of Segment 2 and near the end it affords some sweeping views of the French Broad watershed below. But sometimes the best part of a hike is when the end is near and you know that small indulgences await. Like an icy-cold pop. Or Cheetos. Or Walnut Crusted Fresh Mountain Trout. The being the case if you happen to be finishing up Leg 11, Segment 2 of MST in a Day, at the Pisgah Inn. With that carrot (served, say, as garlic-roasted medallions) urging you down the trail, this leg should be sold out long before September 9, so act quickly. Learn more and sign up here.
Leg 10: Cherry Cove Overlook to US 276. You'll find some short but stout climbs on this 3.5-mile run that parallels and crosses the parkway. There's a good look at Looking Glass Rock to the south, some nice views of Cold Mountain and Shining Rock to the north. And, it's an easy shuttle. Learn more and sign up here.
Segment 3: Pisgah Inn  to Black Mountain Campground
Leg 7: BRP at US 74A (BRP MP 384.8) to Folk Art Center (BRP MP 382), 3.0 miles, moderate. When you hear that the MST follows the Blue Ridge Parkway much of the way through the mountains, it's easy to be intimidated: There's not a lot of flat to the Parkway — though there is around Asheville. Leg 7 is marked by minimal elevation gain and lots of water, in the form of small stream crossings. Learn more and sign up here.
Leg 8: Folk Art Center (BRP MP 382) to BRP at Craven Gap (BRP MP 377.4), 5.2 miles, moderate. We like this stretch for two reasons: 1) it can be coupled with a visit to the Folk Art Center (at the trailhead) and 2) here begins the MST climb, subtle for the most part, to the trail's high point, 6,684-foot Mount Mitchell, some 30-plus miles distant. A feel of the mountains close to Asheville. Learn more and sign up here.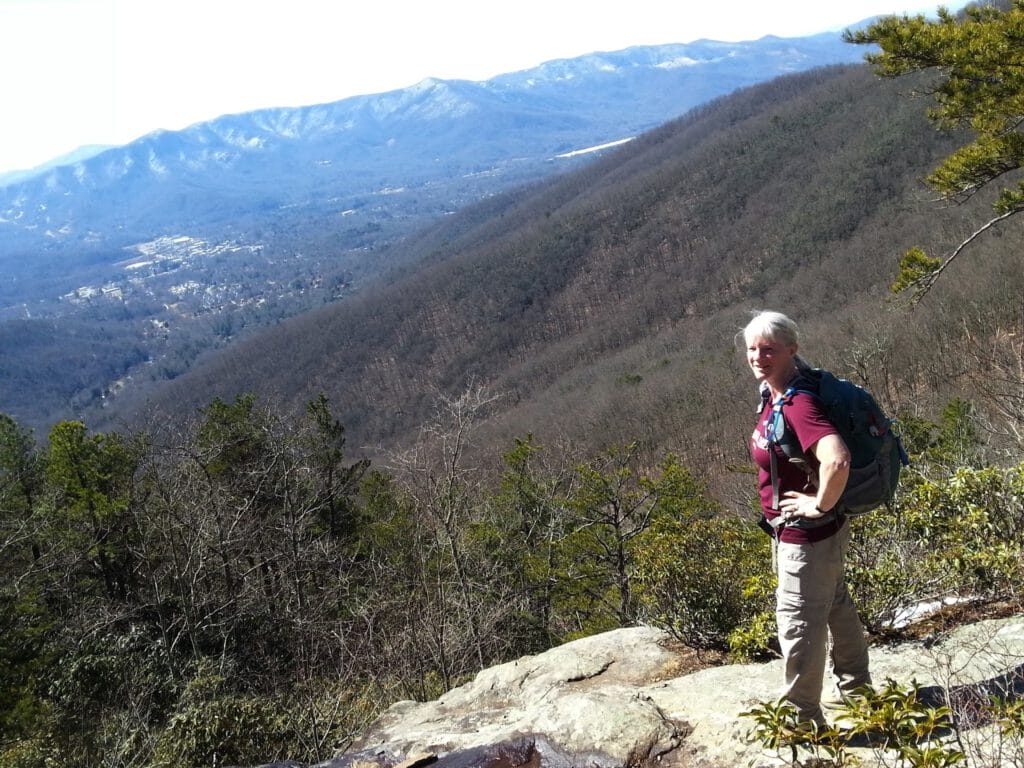 Leg 11: Craggy Gardens picnic area (BRP MP 367.6) to Greybeard Mtn. Overlook (BRP MP 363.4), 3.9 miles, strenuous. Not to sound like a used car salesman, but this leg won't last: Craggy Gardens involves an uphill hike through an open shelter, then continues through a run of heath where views unfold by the score. Then it's on to the Graybeard Mountain overlook and a view of the Asheville watershed and Graybeard in the distance. Learn more and sign up here.
Leg 15: Mount Mitchell summit to Black Mountain Campground, 5.9 miles, strenuous. Gravity is your friend on this stretch, which loses about 3,700 feet of altitude as it descends from the highest point on the East Coast — 6,684 feet — to the campground. Start in a balsam fir forest and descend through a Southern Appalachian hardwood forest on a trail that exposes the best in southern hiking. Learn more and sign up here.
Leg 13: Walker Gap Overlook (BRP MP 359.8) to NC 128 crossing, 4.8 miles, strenuous. This stretch tends to hang out around the 6,000-foot mark, which you'll really appreciate if the temperatures are summerlike below (which they usually are on September 9). While others hiking below are working to keep the sweat out of their eyes, you'll be zipping up the fleece and getting a jump on fall. Learn more and sign up here.
Segment 4: Gorges, peaks and waterfalls
Leg 1: Black Mountain Campground to BRP MP 344 and NC 80 at Buck Creek Gap. 7.8 miles. You're probably looking at a lot of the mountain legs and thinking, "Wonder what time I'd need to wake up to get to the trailhead at a decent time?" In the case of Segment 4, Leg 1, if you were planning to be on the trail by, say, 9 a.m., you probably won't have to get up until … 8:45? Sleeping in and doing your part — who couldn't get behind this leg? Book your spot now at Black Mountain Campground, then book your spot with MST-in-a-Day, here.
Leg 3: U.S. 221 and Green Mountain Road to old NC 105. 13.5 miles. Another long one that culminates with a climb up the west flank leading to Linville Gorge's west rim. You'll finish on the glorious Kistler Memorial Highway, which … well, if you've never been on this Appalachian autobahn, who are we to spoil the surprise. You'll just have to sign up and see it for yourself. Sign up here.
Leg 6: Table Rock (Linville Gorge) to NC 181. 8.4 miles. Even among seasoned MST hikers, there are stretches of the trail that cause them to scratch their heads and say, "Huh! No idea what that trail is like." One such stretch is the 8.4 miles from where the MST departs from near Table Rock on the east rim of Linville Gorge and disappears until it reappears at NC 181. It's gotta be good, they acknowledge of trail that bridges the wonder-inducing areas of Linville and Wilson Creek. Yet it remains a mystery. End the mystery, MST vets, by signing up for this stretch, here.
Leg 7: NC 181 to Brown Mountain Beach Road (spur access). 8.1 miles. Another mystery here: the trail departs from Ripshin Ridge reappears at Brown Mountain Beach Road (via a spur trail). Waterfalls are a good bet, some vigorous climbs as well. A good opportunity to learn more about the MST's more rugged side. More info and sign up here.
Leg 9: FS 464 (Pineola Road) to Roseborough Road. 3.6 miles. Aha! You say, 3.6 miles — an easy stretch! Ha! Gorgeous (double entendre meant), but far from easy. Descend from FS 464 to Hunt-fish Falls, take a dip. Continue downstream to Gragg Prong, then head up, up, upstream on a shelf trail that offers access to the seemingly endless drops and pools of Gragg Prong. Emerge, victorious, at Roseborough Road. Several creek crossings here. Learn more and sign up here.
Segment 6: The Elkin Valley — Devil's Garden Overlook to Pilot Mountain State Park
Leg 1, Devil's Garden Overlook to Stone Mountain State Park backpack trailhead, 6.0 miles. Strenuous (even though it's downhill). Ever wonder where the MST goes once it departs the Blue Ridge Parkway at the Devil's Garden Overlook at MP 235.7? It goes down, precipitously in spots. It's an interesting ride, made oh-so-much-more-enjoyable with a pair of hiking sticks. Some good history here as well. Note: Important to hike this stretch west to east, a k a, up to down. Learn more and sign up here.
Leg 2, Stone Mountain State Park backpack trailhead to upper Stone Mountain parking lot, 3.8 miles. Moderate. Pass Widow's Creek Falls, Bullhead Creek (known for its trout waters), then enjoy the trail through the heart of the park, past a massive meadow, the old Hutchinson Homestead, climbers scaling the 600-foot dome and Stone Mountain Falls. Good scenic bang for the buck on this one. Learn more and sign up here.
Leg 15, Old Rockford Road to Shorty's Country Store, 5.1 miles. Easy to moderate. The Mountains-to-Sea Trail is a work in progress: of its 1,175 envisioned miles, about 700 are finished. The rest is temporarily routed on roads, mostly backcountry roads with minimal traffic. Such is the case with Leg 15 of Segment 6, which provides an up close view of the rolling, bucolic Elkin Valley. Best of all: this stretch ends at a place called Shorty's. Learn more and sign up here.
Paddle Leg 1, Elkin Boat Landing, Crater Park to 601 Bridge, 11.5 miles. Not a hiker? Not a problem. The Mountains-to-Sea Trail has several paddle options, including three on the Yadkin River. PL 1 puts in at Crater Park and spends 5 hours meandering an 11.5-mile stretch of the Yadkin, encountering a riffle or two along the way. Learn more and sign up here.
Paddle Leg 2, 601 Bridge to Yadkin River Adventures take-out, 5.5 miles. No Not a hiker and no boat? No problem and no problem: On this leg, you can rent a boat from Yadkin River Adventures. They'll drive you up the river and put you and your boat in on the Yadkin. (Bonus points for exploring the Fisher River, when meets the Yadkin river left about mid-way.) Your trip ends back at Yadkin River Adventures, where your car awaits. Learn more and sign up here.
Segment 7: The Sauratown Mountains — Pilot Mountin State Park to Hanging Rock State Park
Leg 6: Sauratown Trail: Thore Road to Taylor Road." So much to see on this 4-mile stretch, starting right off with Ryder Falls! (Usually, you have to hike in a bit for a waterfall, right?). A little less than a mile in, a bridge takes you over South Double Creek, then pass the Thore Family Cemetery. You'll travel the horse country through which the Sauratown passes, even have an audience with the R.M. Collins Memorial Saddle. Which is? you ask. Hike this leg and find out. Learn more and sign up here.
Leg 7: Sauratown Trail: Taylor Road to Tory's Den (Hanging Rock State Park). One of the joys of the Sauratown stretch of the MST is that it escorts you through some pretty dandy stretches of rolling farm and pastureland: the Sauratowns rise on your right (hiking eastbound), miles of wavy green on your left. There's a bit of walking on NC 66. The reason: most of the Sauratown stretch is on private land and the trail is constantly changing, necessitating these temporary passages, on occasion. The payoff here is worth it, ending in the Tory's Den section of Hanging Rock. Learn more and sign up here.
Leg 5: Sauratown Trail: Brim's Grove to Thore Road. Like some real adventure with your adventure? First, this 5.3-mile run of the Sauratown Trail is one of the longest available on MST in a Day day: that in itself elevates the adventure level. Then, there's the water crossings. Most are spanned by footbridges, but not the Little Yadkin River: Says the MST guide for this section: During periods of extreme high flow, this river crossing may not be possible." Which suggests that during moderate flow, it could be a lot of fun! Learn more and sign up here.
Leg 2: Pinnacle Hotel Road to Pilot Mountain State Park office. This leg includes one of the least visited, least appreciated trails at Pilot Mountain State Park: the Mountain Trail. The Mountain Trail eschews the more touristy trails atop Pilot Mountain and instead embraces the mountain's base, passing rock outcrops and slopes of mature hardwoods (there's even one nice view of the Blue Ridge Mountains to the west). Just two openings remain for this stretch. Learn more and sign up here.
Leg 3: Pilot Mountain State Park office to Old Winston/Coon Road. Here's your chance to explore the Sauratown Trail segment of the MST, linking Pilot Mountain State Park with Hanging Rock State Park. The Sauratown Trail was designed as a horse trail; as such, it has a slightly different feel than much of the rest of the MST. Much of the trail is on private land, with links made via short passages on country roads. This 2.4-mile stretch offers a good sample of the MST on the Sauratown Trail. Learn more and sign up here.
Segment 8: Rivers, Railroads & Lakes
Leg 3: Moratock Park to Meadows Baptist Church. Easy. 5.3 miles. We recommend hiking this one east to west, to finish with a big splash in the Dan River, Danbury's Moratock Park. Starting from the Meadows Baptist Church, take Dodgertown Road, a lightly traveled country road, through rural Stokes County, being sure to stop at Priddy's General Store about midway through the hike. Priddy's opened in 1888 and has been operated by three generations of the same family. Continuing on, this leg ends at Moratock Park, where a nice beach offers access to the cool waters of the Dan River. Learn more and sign up here.
Leg 4: Meadows Baptist Church to Hemlock Golf Course. Easy. 2.7 miles. This is the ideal stretch for the MST supporter who isn't in mid-season hiking form. This short stretch links a church and a golf course on country byways with thought-pondering names such as Bumpy Hollow Road. An ideal warmup if you have a Saturday tee time at the Hemlock links. Learn more and sign up here.
Leg 5: Hemlock Golf Course to Intersection of Tuttle Road and US 311. Easy. 4.8 miles. Or maybe you play 18 on the lovely Par 70 course that's been in the Robertson Family since 1969 and have a little … aggression to work out. Nothing like a 4.8-mile hike (past Jim Booth's Catfish Pond) to make you forget about that triple bogey on the dogleg 16th. Beats tossing your clubs in the Dan River. Learn more and sign up here.
Leg 6: Intersection of Tutle Road ad US 311. Easy. 3.7 miles. On this stretch, you get the thrill of celebrating your leg by finishing in a downtown, to the cheers of adoring onlookers. OK, maybe the streets won't be lined with people waving the MST flag (pennant with a white-circle blaze), but you will find a general store and places to grab a bite to each. You can regale anyone who will listen with your being part of a statewide effort to hike the 1,175-mile MST! Learn more and sign up here.
Leg 7: Cove Grill (South Main Street and NC 65) to White's Grocery on Pine Hall Road. Easy. 3.9 miles. Sustenance won't be a problem on a leg anchored by Cove Grill to the west and White's Grocery to the east. Also: you reap the glory and bragging rights of hiking in two counties (Stokes and Forsyth) in one day. Learn more and sign up here.
Segment 9: Greensboro's Bryan Park to Eno River State Park at Pleasant Green Road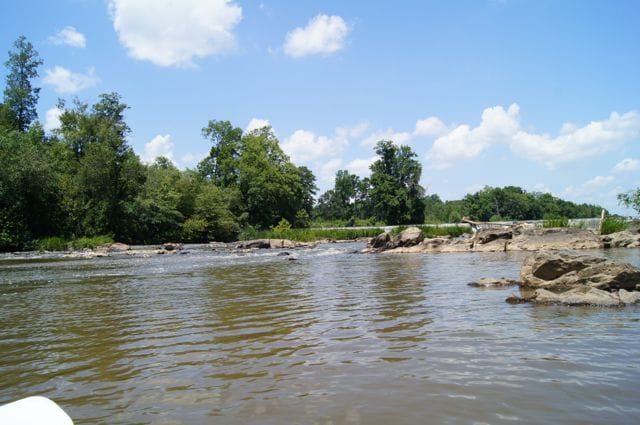 Leg 7: Indian Valley Paddle Access to Stony Creek Marina, 4.0 miles. Frankly, we're surprised this leg wasn't filled on Day 1. This is such an entertaining stretch, brushing up to a golf course (quiet, please), encountering historic Glencoe (with a tour through the restored mill village and past the textile museum), past an abandoned mill and on to the marina, spending time along the rocky Haw River the whole way. Easy to moderate hiking. Learn more and sign up here.
Leg 8: Stony Creek Marina to Red Slide Park, 4.0 miles. Again, May 9 and no one has signed up!? The Haw is at its rugged best through here, and hikers have a front-row seat. One of the newest stretches of MST, too, which means the trail is in especially good shape. Learn more and sign up here.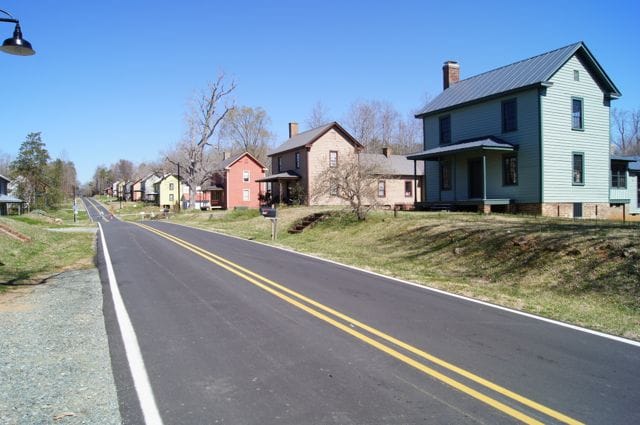 Leg 4: Guilford County Farm to Trailhead on Amick Road, 2.3 miles. On the one hand, this stretch passes the former Guilford County Prison Farm. On the other, the former Prison Farm property is considered among the most scenic natural areas in Guilford County — arresting, you might say. Sign up before you get locked out, by going here.
Leg HR3: Saxapahaw Section, 0.5 miles. Eager to participate but not a big hiker? This easy half-mile stretch runs along the Haw River behind an old mill that has been transformed into the home of the Saxapahaw General Store (its food reviewed in the New York Times), The Eddy Pub, Left Bank Butchery, Village Bakehouse and Cup 22 Cafe. In short, take a short hike, take a long break afterward. Learn more and sign up here.
Leg HR1: Shallow Ford Natural Area section, 1.7 miles. A stretch of preserved wildness along the Haw, Shallow Ford offers a forested respite from the surrounding farmland. Act now: this stretch won't last long. Learn more and sign up here.
Segment 9: Revolution and Textiles
Leg 10: Mebane, 4.4 miles. One of the advantages of the paved sections of the MST — that is, those not yet official trail — is that you get to see some parts of rural NC that will surprise you. This stretch, for instance, ends in Mebane, which if you haven't been there lately, you're in for a big surprise. Clay Street in downtown is hoppin', and offers all sorts of post-walk options, from coffee and a pastry at Filament Coffee & Tea to a hunger-slaking lunch at Martinhos. Learn more and sign up here.
Leg 13: Efland, 3.7 miles. Efland … Efland … . It's popped up in several conversations of late, yet you have no idea where it is. Well, it's on your hiking agenda for September 9, if you like. This leg begins at the convenience store on Mt. Willing Road (stock up on provisions) and ends at the corner of Dimmocks Mill Road and Allison Street, offering a bird's-eye view of whatever it is you've been hearing about in Efland. Learn more and sign up here.
Leg 14: Hillsborough, 3.3 miles. How this stretch remains available is beyond us, for this is quite possibly the coolest stretch of urban trail on the MST. The trail runs along the paved Riverwalk along the Eno through downtown Hillsborough, then leaves town to the east on mulch trail out to Historic Occoneechee Speedway, then through the gorgeous James Johnston Nature Preserve. A prized stretch of trail for the first five hikers to act (and you may get to hike with Hillsborough mayor Tom Stevens!) Learn more and sign up here.
Leg 3, Northeast Park, Greensboro, 4.7 miles. Sometimes the thrill of the adventure is in having no idea what lies ahead. So why not just go ahead and sign up for Leg 3, which starts at Northeast Park and heads east to Guilford County Farm. Learn more and sign up here.
Leg 1: Lake Townsend east, Greensboro, 4.6 miles. George Poehlman, section leader for Section 9, makes the case for the 18 legs in his charge by noting that while "a lot of the route is on road," much of it is "through very pretty, rural countryside." So for those of you with an aversion to natural surfaces, Leg 1 here seems a logical option. Learn more and sign up here.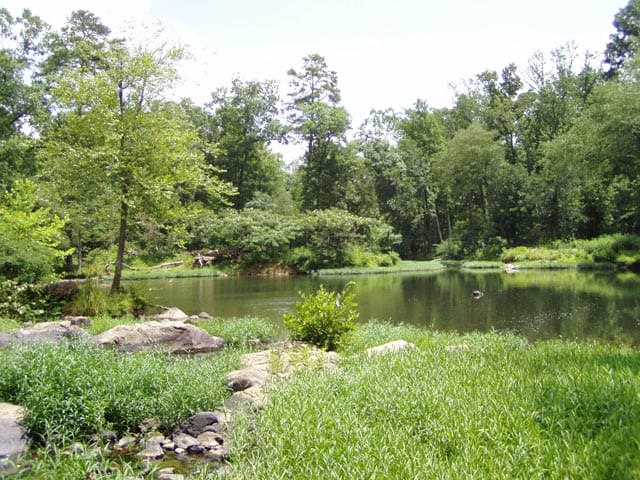 Segment 10: Eno River State Park at Pleasant Green Road to Falls Lake dam
Leg 3: Pump Station Trailhead to Eno River Association headquarters. 3.5 miles. Moderate. From the Rivermont Road Trailhead, hike a half mile along a small creek (check out the massive, breached rock dam on your left) to the ruins of the old Durham Pump House. Go right and hike downstream through floodplain and over bluffs, past a waterfall (in the Piedmont!), past the old Guess Mill dam. Surprisingly secluded, an easy shuttle. This leg won't last long. Sign up here.
Leg 4: Eno River Association headquarters to Penny's Bend Nature Preserve. 6.2 miles. Moderate. As of July 3, only one person — one! — had signed up for this stretch, which begins in a lowland woods along the Eno River before reaching Sennett Hole, a boulder field in the Eno River best known for the deep pool in its midst (and on Sept. 9, won't that pool feel nice to be in). Continue downstream through West Point on the Eno city park, then, briefly, past civilization, before the trail parts ways with the hills and enters the Penny's Bend Nature Preserve and some exceptional riverine woods. Sign up here.
Leg 5: Penny's Bend to Red Mill Road. 4.1 miles. Moderate. A bit of nimbleness is required to cross Old Oxford Highway, but from there this stretch is a gem, climbing a 60-foot bluff with a rare feature in the Triangle, a view (to the north), before dropping into a floodplain forest of old (for the Triangle) growth trees and quiet, serene passage. A favorite hikes among our GetHiking! group. Sign up here.
Leg 8: East Gear Street to Cheek Road. 3.9 miles. Easy to moderate. Trailheads don't get much better than this: you head out at the Lake Ridge Aero Park, where a biplane may very well swoop down and land on the grass airstrip (holy Red Baron!). The trail continues along the south shore of Falls Lake, ducking in and out of coves, using paved roads twice to accommodate water crossings. Good views of the lake, some nice lose-yourself-in-nature time. Sign up here.
Leg 9: Cheek Road to Santee Road. 4.8 miles. Moderate. For the most part, this is classic cove and Piedmont forest hiking, the kind you look forward to when you head out on a fall Saturday afternoon. The highlight, though, is passage over Little Lick Creek, which is less little creek, more finger of Falls Lake. A long, narrow boardwalk bordered by lake on both sides feeds a small island; escorting you across the main channel is a lovely pedestrian bridge. Take a moment from the bridge's apex to check out the bald cypress that line the channel. If you're lucky, an angry beaver will suggest it's time to move on with repeated depth-charge whomps of its tail. Sign up here.
Segment 14B: Land of History
Leg 1: Singletary Lake State Park Office to NC 53 and Whitehall Road. 2.7 miles. Easy. One of the things we like about this leg: according to the MST Guide for the Coastal Plain and Outer Banks, 1.8 miles in you will see the home of Ricky Smith, "aqua blue house on right at 8406 NC 53 East. Note: Mr. Smith has offered to allow hikers to get water from his spigot if they call him at 910.874.5678." A nice introduction to coastal plain hospitality. Learn more and sign up here.
Leg 3: NC 53 and Elwell Ferry Road to Kelly Historical Museum. 3.1 miles. Easy. This adds a little more than a mile and a half to your hike, but three-tenths of a mile in, you should detour and walk down Elwell Ferry Road to check out one of three remaining river ferries in North Carolina, on the Cape Fear. More history awaits at trail's end and a visit to the Kelly Historical Museum. Learn more and sign up here.
Leg 5: Pleasant Hill Missionary Baptist to Natmore Baptist Church. 2.8 miles. Easy. This is really more of a pilgrimage, from one Baptist church to another, down Natmore Road (a k a Salt Marsh Road, a k a SR 1539). The hike is through a mix of farmland and forest on mellow country road. Learn more and sign up here.
Leg 6: Natmore Baptist Church to Canetuck Community Center. 4.7 miles. Easy. From Natmore Baptist you'll enjoy a pleasant country ramble in addition to experiencing the geopolitical thrill of passing from Bladen County into Pender County (an occasion marked by the transition of your path from Natmore Road to Sykestown Road). In another mile and a half, your journey ends at the Canetuck Community Center, a former Rosenwald School, part of a system of schools that once played a vital role in educating African Americans. Learn more and sign up here.
Leg 10: Moores Creek National Battlefield to Ya-Ya Mini Mart. 1.6 miles. Easy. Imagine that upon waking the morning of their eventual victory over the Loyalists at the Battle of Moore's Creek Bridge in 1776 that the Patriots had discovered they were low on half-half: would they have sent a regiment for resupply at the Ya-Ya Mini Mart? The record is unclear on the matter, but if they had, you can retrace our heroes' steps by signing up for this leg. Learn more and sign up here.
Segment 16B: The Croatan: Stella to the Neusiok Trail
Leg 4: FR 205 and NC 58 to Mills Road and FR 123. 4.8 miles. Easy. This stretch offers a mix of paved country road and forest road. The first 2.5 miles along paved road, passing a convenience store (Wouldn't a nice Hawaiian Punch taste great right about now?) and a country church. A nice bit of local ambience, which is what the Mountains-to-Sea Trail is about: getting to know a wide range of North Carolina, both natural and cultural. Then, about the time you're eager for a more natural setting, you turn onto the natural surface Mills Road, eschewing traffic for coastal forest. Learn more and sign up here.
Leg 5: Mills Road and FR 123 to FR 154 and Nine Mile Road. 5.2 miles. Easy. Some folks scoff at hiking the coast in summer. A large part of that is the notion of navigating a narrow trail crowded by all sorts of flora (seen) and fauna (not seen). That's the beauty of hiking a gravel forest road through the woods. It's two-cars wide, meaning the nearest cover is a good 15 feet off. You get the great coastal forest scenery minus the surprise guest visits. Such is the case on this gravel road stretch of the MST. Learn more and sign up here.
Leg 6: FR 154 and Nine Mile Road to FR 154 and Hibbs Road. 5.8 miles. Easy. The beauty of this stretch is in what you won't find about it in the MST Trail Guide for the Coastal Plains and Outer Banks: descriptions of which way to go. Which is to say this stretch has precious few human distractions: roads coming in from there, departing from here. It's just six miles (nearly) of uncomplicated, contemplative hiking. The ideal destination for an early September hike. Learn more and sign up here.
Leg 7: FR 154 and Hibbs Road to The Sanctuary of Newport. 4.4 miles. Easy. One thing you get on the Coastal Plain portion of the MST that you don't get as much of elsewhere is encounters with the cultural elements of North Carolina. Not the case on Leg 7 of Section 16b, which begins by crossing the Newport River into the town of Newport. Did you know that Newport is host to, and Leg 7 goes by, the Newport Historical Museum as well as the Battle of Newport Barracks Civil War Memorial Park? You'll need to allot extra time for touristing on this leg. Learn more and sign up here.
Leg 10: NC 101 just west of NC 306 up 306 to Pine Cliff Recreation Area. Easy. 5.1 miles. Did you ever jump into your favorite swimming hole on a sweltering summer day and, in that moment of euphoric relief think, "What did I do to deserve this?" When you walk into the surf at the Pine Cliff Recreation Area on the southern shore of the mighty Nuese River on September 9, the answer will be that you walked more than 5 miles along NC 306. Nothing like a carrot — a cool, refreshing one at that — to get you down the trail. Learn more and sign up here.
Segment 18: The Outer Banks: Cedar Island Ferry to Jockey's Ridge State Park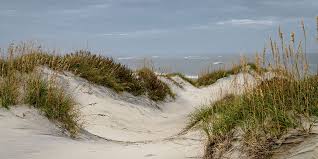 Leg 4: Hatteras Ferry Terminal to Cape Hatteras National Seashore Parking Area on NC 12. Easy. 4 miles. This leg includes the romance of the ferry — well, at least the ferry terminal parking area — with a walk on the beach. A little variety is nice on a beach walk: all that walking in sand can be a challenge for the calves after a while. Plus, this leg offers a quick and easy shuttle on NC 12. Learn more and sign up here.
Leg 5: Cape Hatteras National Seashore Parking Area to Frisco Campground. Easy. 2.7 miles. If you're already vacationing on the Outer Banks, what an easy way to make your contribution to MST in a Day. You're probably going to be walking the beach anyway, right? So why not walk it from Cape Hatteras to the Frisco Campground (especially if you're already staying in the campground). Score some shells, help the MST scratch Leg 5 of Segment 18 from its "to-hike" list. Learn more and sign up here.
Leg 7: British Cemetery to Haulover Day Use Parking Area. Easy. 4.1 miles. Here's a plumb stretch that won't last long. Start with some history, at a cemetery for British soldiers killed in World War II. A short ways in, you can take a detour on the three-quarter-mile nature trail exploring Buxton Woods, one of the few remaining maritime forests along the East Coast. Pass the Hatteras Island Visitor Center for more history (including a bookshop!), then pass the site where the Cape Hatteras Lighthouse stood before rising sea waters forced its retreat 2,900 feet inland in 1999. You could make a day of this intriguing leg. Learn more and sign up here.
Leg 8: Haulover Day Use Parking Area to Avon Pier. Easy. 3.5 miles. You want to hike the MST in a Day on September 9, but, if you're headed to the beach, perhaps someone in your party would rather go shopping? Leg 8 addresses this dilemma with frequent boardwalk access to the stores in Avon (Ramp 38 provides the best access). Oh, and the Avon post office as well, so you can send MST postcards to the folks back home! Learn more and sign up here.
Leg 12: ORV Ramp #23 to Rodanthe Beach Access. Easy. 4.4 miles. When we go to the beach, one of our favorite pastimes is to explore the small towns along the way. Leg 12 is like a walking tour of great OBX villages: Salvo, Waves, Rodanthe. Take time to explore these villages, maybe see if there's a cornhole tournament going on in Salvo, or check out the Chicamacomico Life-Saving Station Historic Site & Museum in Rodanthe (remember, it's not just about the nights in Rodanthe). Learn more and sign up here.
Segment 11A-16A: Neuse River Paddle Route
Leg 1: Falls Dam Boat Access to Buffaloe Road Bridge Boat Access. Moderate. 10.4 miles. This is probably the most popular, most paddled stretch of the Neuse through Raleigh — and there's nary a soul signed up to paddle on September 9. The put-in below the dam is easy access; shortly, you're on the water and although civilization looms large not 100 feet from the Neuse's banks, the dense riparian walls on both sides create a cozy, "you-might-as-well-be-paddling-Down-East" atmosphere. Easy water. You can even rent a boat, from Paddle Creek. Learn more and sign up here.
Leg 3: Poole Road Bridge Boat Access to NC 42 Bridge Boat Access. Moderate. 14.1 miles. Poole Road is roughly where the Neuse departs Raleigh. True, the city limits may run a bit farther downstream, but this is where you notice that where the banks aren't forested, there's pasture and farmland, white fences and open sky. Distance is marked by the six bridges you pass beneath, two of which are for the 28-mile Neuse River Trail, a paved greenway that's your companion to the Johnston County line (where another 5 miles of greenway takes you into Clayton). Learn more and sign up here.
Leg 5: Smithfield Town Commons to Howell Woods Camp. Moderate. 19 miles. This stretch has something of an expeditionary feel to it. First, you're putting in from Smithfield, the last outpost of civilization. That feeling intensifies 15 miles in when you cross under I-95 and enter the "Let'Lones," where the Neuse, in the words of the Triangle Land Conservancy, "spreads into a mysterious, swampy quagmire," the result of flat, indecisive terrain that lets the river turn every which way. Be prepared to yell, "Eureka!" upon arriving at your destination, Howell Woods Camp. Learn more and sign up here.
Leg 7:  Ferry Bridge Boat Ramp to Old Waynesborough Park. Moderate. 14.4 miles. From the put-in at a Duke Energy power plant, the Neuse continues its lazy way to the cost. Banks of trees pass, farmland, too. Long stretches of idle paddling, providing plenty of time to try and find the answers to life's persistent questions. Questions such as, at mile 9.1 where the river splits, "Which way should I go?" Answer: left, because in another few miles, when you reach the bald cypress swamp near Goldsboro, you'll be looking for the brown sign indicating your take-out, at Old Waynesborough Park. Learn more and sign up here.
Leg 10: NC 111 Bridge Boat Access to Seven Springs Boat Access. Easy. 8.4 miles. Another very alluring leg. In part, because at 8.4 miles this is one of the shorter legs of the paddle segment: if you can't commit a full day, it's a good option. Alluring, too, because of the unusual out-of-nowhere geological oddity you'll encounter 6 miles in: the 90-foot-high cliffs (in the coastal plain!?!) rising above the water. You've reached the oxbow that's home to Cliffs of the Neuse State Park, where you'll also find a nice beach to sun, have lunch, frolic in the water. Or, take the trail to the top and explore the park. Learn more and sign up here.
Segment 17: The Neusiok Trail and Cedar Island 
August 14: Leg 5: Mill Creek Road Crossing to Harlowe Methodist Church. 7.0 miles. Easy/moderate. One worry about walking the coastal plain: exposure. The baking sun beating down directly upon you. Not the case with this stretch, which, according to MST Segment Leader Carla Gardner, follows "nice, quiet, rural roads" with "lots of trees." Less than two miles in, you'll also brush with the southern tip of the Neusiok Trail and the Oyster Point Campground, with a vault toilet and water. Learn more and sign up here.
August 15: Leg 6: Harlowe United Methodist Church to gas station at NC 101 and Steel Rank Road. 4.8 miles. D'oh! Forgot your water? One of the beauties of the MST is the friendly folk along the way: call Bert Taylor at Harlowe UMC (252.241.6815) and you can get water from the church spigot. As added incentive, Segment Leader Carla Gardner, who raised these roads on her bike, says there's a good restaurant inside the gas station at trail's end. Learn more and sign up here
August 15: Leg 7: The aforementioned gas station with a good restaurant at NC 101 and Steel Tank Road, and Woodville Baptist Church. 6.9 miles. Easy/moderate. One thing we love about walking country roads is that you get time to see how other people play. Or, in the case of Segment 17, Leg 7, how other people learn: About 5 miles in, you'll pass the East Carteret High School Sports Complex, home of the fightin' Mariners. An especially nice stretch in the early morning, says Segment Leader Carla Gardner. Learn more and sign up here.
August 16: Leg 11: Lighthouse Community Church to west end of high bridge onto Cedar Island (park at the boat ramp). 5.0 miles. Easy. Like shore birds? You'll see lots of 'em on this leg. Ditto views of the sound, to your right and left on a leg that includes passage on a bridge over Salters Creek and the surrounding marsh. Learn more and sign up here.
August 17: Leg 12: West end of high bridge onto Cedar Island (park at the boat ramp) to Cedar Island Volunteer Fire Department. 5.3 miles. Easy. Do you need to know anything beyond the fact this leg is through the Cedar Island National Wildlife Refuge? Home to birds ranging from the barred owl and black rail to sedge wren and Virginia rail, where you'll find ecosystems ranging from bay forest to cypress gum swamp, where 92 amphibian and reptile species are believe to exist? Lots to see here. Learn more and sign up here.
Segment 1a: Great Smoky Mountains
Leg 7: Heintooga Ridge Picnic Area to Heintooga Road at Flat Creek Trailhead. 4.1 miles. Strenuous. A half mile in you come upon the Balsam Mountain Campground, the highest campground in the Great Smoky Mountains National Park and one that takes no reservations: if you're a half mile in and pooped, pitch camp. Continue on, though, and you'll reach Polls Gap (where trails head to Hemphill Bald and the Cataloochee area). And finally, an overlook, where you might be able to catch a glimpse of Flat Creek Falls. Learn more and sign up here.
 Leg 8: Heintooga Road at Flat Creek Trailhead to Heintooga Road at BIA 434. 4.8 miles. Strenuous. Among the overlooks on this hike: Flat Creek Falls, Lake Junaluska, Maggie Valley, Mile High (with views of Clingmans Dome and Mount LeConte. That's a lot of views to help take your mind off the fact there's some climbing on this run of trail. Learn more and sign up here.
Leg 9: Heintooga Road at BIA 434 to Soco Gap Overlook (Blue Ridge Parkway Milepost 455.5). 2.7 miles. Strenuous. The trail joins the Blue Ridge Parkway on this leg (and remains along the parkway for much of the way until departing at the Devil's Garden Overlook and descending to Stone Mountain State Park and the Piedmont beyond). Among other things, that means it's easy to set a shuttle (from Wolf Laurel Gap, MP 458.2, to Solo Gap, MP 455.5). Learn more and sign up here.
Leg 10: Soco Gap Overlook (BRP MP 455.5) to Waterrock Knob Overlook (BRP MP 451.2, spur to MST). 4.2 miles. Strenuous. This gap-to-gap stretch includes passage on long-abandoned mountain roads and intimate stretches between views. More info and sign up here.

Segment 1b: Peak to Peak: Clingmans Dome to Waterrock Knob
Leg 1: Intersection of Deep Creek Trail and Martins Gap Trail to Deep Creek Trailhead. 6 miles. Moderate/strenuous. You start at the last-known campsite of Horace Kephart (if you aren't familiar with Kephart, get to know him here), then continue down past additional campsites and relaxing passage down Deep Creek to the trailhead just outside Bryson City. Learn more and sign up here.