Ten National Wildlife Refuges
covering more than 365,000 acres. A
160,000-acre national forest
. More than 60,000 acres of additional conservation lands protecting everything from barrier islands to flora unique to this part of the world. The largest remaining maritime forest in the country and the largest intact bottomland hardwood forest east of the Mississippi River.
Bald cypress dating back 2,000 years, carnivorous plants, swamps that evoke the same sense of mystery today that they have since their primordial beginnings.
Winter skies filled with overwintering waterfowl from the far north, summer skies atwitter with neotropical migrants.
Few places offer as much potential for raw adventure as eastern North Carolina.
As The Nature Conservancy notes: "The Coastal Plain has some of the richest biodiversity found anywhere in the world, supporting an amazing range of plant life. Rare animals (some federally endangered) like the red-cockaded woodpecker make this place home, as do black bear, the bald eagle and the American alligator." Don't forget the red wolf.
Eastern North Carolina offers as much opportunity for wild adventure as any region of the country. Yet the area's potential goes largely under appreciated.
Why?
For starters, our guess is that people don't fully appreciate what's here. A bigger reason might be that they don't know how to explore this unusual terrain and where exactly to go.
That's where our new GetExploring! Greenville program comes in. We want to help you learn about these great places in our own backyard. Then, we want to take you there.
Take paddling. Perhaps you had a feeling this was a good place to own a canoe or kayak: at Town Common park in downtown Greenville it's not unusual to see paddlers enjoying the Tar River on a summer evening.
But did you know that there are more than 2,500 miles of designated paddle trails in the eastern part of the state (east of I-95)? That on the Tar River alone there are nine boat ramps from Tarboro to Little Washington? That on the Roanoke River you can paddle through the largest intact bottomland hardwood forest east of the Mississippi? That in the flat coastal plain it's possible to paddle a loop trail? (Chocowinity Bay and Devil's Gut near Jamesville are two options.) That there's a marked paddle trail to keep you from getting lost in the bald cypress and tupelo swamp at Merchant's Millpond State Park, and that you can paddle among alligators on Milltail Creek in the 152,195-acre Alligator River National Wildlife Refuge?
On foot, you can hike a 20-mile trail (the Neusiok) through an upland swamp and pine forest in the Croatan National Forest. You can explore the largest remaining maritime forest along the East Coast at the Nags Head Woods Nature Preserve on the Outer Banks. You can backpack at Merchants Millpond and you can summit a peak at the coast: 60-foot-high Sugarloaf Dune at Carolina Beach State Park.
Eastern North Carolina offers some of the truest adventure remaining in the U.S. Not of the Lewis & Clark variety — where there's no guarantee you'll return. But it is one of the few places where you can still find the untamed terrain that causes your heart beat a little faster, your senses to up their game.
It's a modern explorer's dream, and a dream our GetExploring! Greenville program will help you live.
Starting in August, GetExploring! Greenville plans to lead a variety of adventures throughout the region. The goal of our program is two-fold.
For established explorers, we aim to show you new places that may be off your radar. Even if you've paddled a lot, chances are you haven't paddled all 2,500 miles of the region's designated paddle trails (not to mention the waters of the coastal sounds and inlets).
Our main audience, though, is the adventurous at heart. Those of you who've been intrigued by the notion of paddling a black water creek or taking a January hike through a stark coastal forest, but didn't feel comfortable doing it on your own. Through a combination of monthly in-store clinics and guided trips, we hope to make you more comfortable exploring the wild landscape of eastern North Carolina.
We'll keep in touch in three ways. First, we will announce our trips and clinics through our GetExploring! Greenville Meetup site. Sign up (it's free) here. We'll also send out a weekly enewsletter keeping you updated on our trips and clinics, and offering tips and advice on exploring the region. Finally, we'll share information throughout the week on our Facebook page.
Intrigued?
On Thursday, Aug. 7, we'll hold an introductory gathering in our Greenville store. We'll talk more about the GetExploring! Greenville program, we'll talk about specific trips, and we'll swap tales on the best places to explore in eastern North Carolina. And yes, there will be refreshments.
We look forward to exploring Eastern North Carolina with you.
* * *
Where to paddle close to Greenville
Let's kickoff GetExploring! by exploring some of the great paddle trips within a half hour or so of Greenville. Here are 10 of our favorites:
1. Chocowinity Bay Loop
Loop trails: common in hiking and mountain biking, not so much in paddling. On land, a loop only needs to have the same elevation at the start and finish (which are the same). It doesn't usually work that way with water, what with the gravity thing and all.
At the coast, however, loop paddle trails are indeed possible: there's little elevation change, little current. In places, your can put together some interesting circuits.
Chocowinity Bay is one such spot. From the Twin Lakes Campground Resort put-in, paddle counterclockwise you can paddle the bay up Chocowinity Creek, then return to the bay via Sidney Creek, with out-and-backs up Taylor Creek and Crawford Creek. It's a protected paddle on mostly intimate waters.
Add a workout to your paddle by starting across the Pamlico River on the Washington waterfront, at the N.C. Estuarium. Paddle a quarter mile across the Pamlico, then head downriver along the peninsula and following it back up Chocowinity Bay. That adds an open water experience and about seven miles of paddling.
More info and maps: Find a description of the paddle trail from Twin Lakes Campground, go here, paddle-trails a map can be found here.
Getting there: From Little Washington take US 17 Business south across the Pamlico River, then turn left on Wichards Beach Road. After about a half mile, turn right into the Twin Lakes Campground Resort.  For a map, go here.
Note: Access via the Twin Lakes Campground is sometimes restricted. For an alternate put-in, continue east on Wichards Beach Road to an access at the end of the peninsula. This access adds about two miles to the trip from Twin Lakes.
Difficulty: Easy
Length: 8 miles.
Time to complete: 3-5 hours
County: Beaufort
Nearest town: Washington
River access GPS coordinates: 35.520802, -77.04978
2. Contentnea Creek/Neuse River: Grifton to Maple Cypress Landing
History has occurred along all the trails we paddle in Eastern North Carolina. With the first humans moving into the area about 10,000 years ago, you can bet the region's waterways, handy both for nutrition and transportation, were a magnet for early human activity. Unfortunately, for the vast majority of the area recorded history only goes back a couple hundred years.
Contentnea Creek, however, enjoys some of the oldest recorded history of the Carolinas. In 1700, John Lawson  became the first European to keep a written account of the Carolinas' interior on a six-month trip that resulted in the 1709 bestseller, "A New Voyage to Carolina." Of his passage through this area in 1701, he noted it was "very thick of Indian Towns and Plantations." This trip also passes the location where, in 1711, Lawson and Baron de Graffenried were likely captured by Tuscarora Indians, resulting in Lawson's execution.
Much of this trip, which includes about four miles on Grifton Creek and six on the Neuse, resembles what it might have been like in Lawson's time. A dense swamp forest insulates paddlers from the world beyond, the banks thick with bald cypress and water tupelo draped in Spanish Moss.
More info and maps: "Paddling Eastern North Carolina," with Paul Ferguson, p. 238; "Pitt County Paddle Trails," Mid-East RC&D Council, Inc./Pamlico-Tar River Foundation.
Getting there: The put-in in Grifton is off Water Street; the take-out is 12 minutes down NC 118, SR 1400 and SR 1470. For a map, go here.
Difficulty: Easy/Moderate (length, bigger water of the Neuse)
Length: 10 miles
Time to complete: 4-6 hours
County: Pitt, Craven
Nearest town: Grifton
Put-in coordinates: 35.21930, -77.25801
Take-out coordinates: 35.18842, -77.18145
3. Goose Creek
You want the challenge of big water?
Paddle Goose Creek.
You want a remote backwater passage beneath giant oaks, pines and ancient bald cypress?
Paddle Goose Creek.
Goose Creek can't be all things to all paddlers. But it does offer options that can aid both the indecisive and weather-weary alike. From the Dinah's Landing boat ramp (which is part of Goose Creek State Park but removed from the park's main entrance), you paddle about 250 yards before it's decision time. Go left and you'll be presented with two forks of Goose Creek, both of which offer increasingly tight passage through the park's swampy interior. As the creek narrows, you become increasingly familiar with the wax myrtle, red bay and groundsel fighting for turf along the banks. Your odds also increase of catching a glimpse of the park's wildlife, which ranges from assorted  osprey, eagles and hawks overhead, to minks, muskrats and various snakes (including the venomous cottonmouth).
Continue straight from the put-in and you'll quickly encounter the Pamlico River. Technically still a river at this point, the Pamlico is on the verge of becoming a sound. Thus, paddle downstream for bigger water or go upstream for about seven miles to the Washington waterfront. On calm days, the Pamlico can be glassy. When Mother Nature gets a bit of an attitude, it's a good time to stick with Goose Creek.
More info and maps: Visit the North Carolina State Parks website for Goose Creek.
Getting there: From US 264 east of Washington, go south on Goose Creek Road. Continue straight on Dinah's Landing Road to the put-in, about a mile and a half from US 264. For a map, go here.
Difficulty: Easy on Goose Creek, more challenging on the open waters of the Pamlico River. On a day when the Pamlico has white caps, it's a good idea to have your roll down.
Length: Up to four miles on Goose Creek, considerably more is possible on the Pamlico (overall, it's about eight miles upstream to Washington).
Time to complete: 1 hour to a day
County: Beaufort
Nearest town: Washington
River access coordinates: 35.28785, -76.55926
4. Roanoke River: Hamilton to Grabtown Road
From the time the Roanoke River enters North Carolina from Virginia, it has a sense of purpose. It meanders some — what river doesn't? — but largely it's on a mission: get to the Atlantic asap. Then, just north of the town of Hamilton, it appears to get distracted, zigging this way and that, suddenly in no particular hurry to end its journey. Rather, it's intent on exploring as much of this bottomland forest, the largest intact bottomland hardwood forest east of the Mississippi River, as possible.
That's a great thing for the paddler.
From the NC Wildlife Resources Commission boat ramp on Main Street in Hamilton, the   Roanoke rambles eastward, at one point encountering bluffs 70 feet high. To the north, the river borders the 21,000-acre Roanoke River National Wildlife Refuge, which includes 9,500 acres of bottomland forest, 8,000 acres of cypress/tupelo swamp and a vast array of flora and fauna. The refuge is home to wintering waterfowl, nesting ducks, raptors, osprey and neo-tropical migrants as well. It is also home to the largest inland heron rookery in the state.
With so much to see, this is not country you want to hurry through. The meandering Roanoke is more than happy to cooperate.
More info and maps: Visit the Roanoke River Partners website here;  also see "Paddling Eastern North Carolina" with Paul Ferguson, p. 403.
Getting there: Hamilton is about eight miles north of US 64; see map for directions. For a map, go here and here.
Difficulty: Easy to moderate (length)
Length: 13.5 miles
Time to complete: 6-10 hours
County: Border of Bertie and Martin
Nearest town: Hamilton
Put-in GPS coordinates: 35.56820, -77.12135
Take-out GPS coordinates: 35.56594, -77.02462
5. Runyon Creek
You've just done a trip in the area and the day is young — not young enough for another all-out paddle, but young enough for another hour or two on the water. You need a quick, easy and accessible creek. You need Runyon Creek.
From the Washington Park Access on River Road on the east side of town, you'll find that easy access via a city boat ramp. From here, you have two options. One, paddle upstream for a mile of increasingly constricting water. At US 264 you can either take out or float back to the put-in (preferable). Or, from the put-in, paddle under the bridge into the Pamlico River. You'll find speedboat traffic, but you'll also find a couple islands to explore (Grandpap, The Castle) and as daylight fades, you can enjoy the setting sun over the Washington waterfront.
Two more advantages to this access: One, if you don't have a boat, Inner Banks Outfitters is right there: take a single kayak out for $30 for up to four hours. And if you're smelly, you can wash off the creek at outdoor showers across River Road in Havens Gardens Park.
A third additional advantage, actually: If you're hungry or thirsty, also located at the put-in is Backwater Jack's Tiki Bar and Grill for apres paddle reflection.
More info and maps: Visit the Little Washington paddle trail guide here.
Getting there: From US 264 in Washington, go south on N. Bridge Street, then take a left on West Main, which turns into East Main which becomes Park Road, then River Road. The put-in is on the west side of Runyon Creek, before crossing the bridge. For a map, go here.
Difficulty: Easy
Length: 2 miles (out and back), more if you venture out onto the Pamlico River.
Time to complete: 1 hour
County: Beaufort
Nearest town: Washington
River access GPS coordinates: 35.32199, -77.02345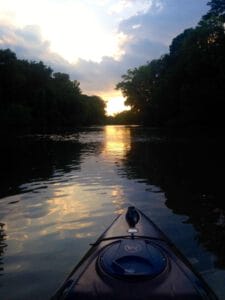 6. Tar River: Greenville
At the end of a long summer's day, there's no easier and more satisfying place for Greenvillians to wind down than on the Tar River, right in their own backyard. Starting around 5:30 you'll find folks gathering at Town Common Park to fish, laze about in inner tubes, or simply sit along the greenway overlooking the Tar's south bank to cool off as the sun goes down.
You'll also see a goodly number of paddlers, in part because the shallow waters here tend to keep away the speed boats. Paddle downstream for a mile or so to the River Park North Access (or, if you've got excess end-of-day energy, continue another three miles to Green Mill Run and the Port Terminal Access), or head upstream under the parallel bridges for Pitt and Greene streets and the railroad trestle. (As you pass the ample stone piers for the trestle, check for snakes squeezing the last sun from the day.) A negligible current, especially during the doldrums of summer, makes either direction a mellow effort.
In fact, you don't need to go anywhere to enjoy this stretch. Paddle to the middle of the river and just sit and watch the day draw to a close.
More info and maps: "Pitt County Paddle Trails" map, Paddling Eastern North Carolina," with Paul Ferguson, p. 457.
Getting there: From East First Street downtown, go north on North Side Street for a short distance to the boat access. For a map, go here.
Difficulty: Easy
Length: 0 to 3 miles
Time to complete: 1-2 hours
County: Pitt
Nearest town: Greenville
River access GPS coordinates: 36.916, -77.22101
7. Tar River: Belvoir to Greenville
There are several things to like about paddling the Tar River in eastern North Carolina. For one, the river has seven NC Wildlife Resources Commission boat ramps that make for easy access to the river. Paved access road, paved parking, concrete boat ramps, often with a natural surface area for a kayak or canoe to put in. A welcome sight to any paddler who's ever shown up at an "official" access and thought, "Seriously? Maybe for John Lawson."
The river is big enough that it's almost always got dependable water flow. That's especially nice during the dog days of a parched summer and during our drier fall months. And the shuttles are usually speedy quick. On this 11-mile run of the Tar, for instance, the shuttle, according to Google Maps, should take 11 minutes. That includes a little in-town driving.
This stretch makes for a nice, long day of paddling. Some run this stretch another four miles, down to the Port Terminal Road NC WRC access. Taking out at Town Common Park lets you avoid the motorboat traffic that picks up near Port Terminal.
More info and maps: "Pitt County Paddle Trails" map,  "Paddling Eastern North Carolina," with Paul Ferguson, p. 457.
Getting there: The put-in is off NC 222 near Belvoir, the take-out is at Greenville's Town Common park, a drive of about 18 minutes. For a map, go here.
Difficulty: Moderate (length)
Length: 11 miles
Time to complete: 4-6 hours
County: Pitt
Nearest town: Belvoir/Greenville
Put-in GPS coordinates: 35.41702, -77.29418
Take-out GPS coordinates: 36.916, -77.22101
8. Tar River: Tarboro
It's hard to imagine that when folks first got the idea that Tarboro would be a good place to start a town, they weren't thinking: "And dang, you can do a 10-mile paddle with just a 3-mile shuttle!"
As point-to-point paddles go, it's hard to beat the Tar River in Tarboro for convenience. You've got a NC Wildlife Resources Commission access on the north end of town, where NC 33 crosses the Tar, you've got a city of Tarboro access on the south end of town, at Riverfront Park. In between, you've got 10 miles of Tar River that makes the most of its passage through town with a series of oxbows that, during the low water of summer in particular, create white sandbars ideal for taking a break. There's not a strong current along this stretch — the river drops a little over a foot per mile on its meander along the east edge of town — but there is enough to make this a lazy day of indifferent attention to your paddle.
If you're feeling ambitious three and a half miles in, Fishing Creek enters from the left, providing a chance to paddle upstream and explore. Despite passing through town, you don't get a sense of development until you're nearly eight miles in.
A lazy half day on the river followed by a shuttle of 10 minutes, if that. A hard combination to beat.
More info and maps: "Paddling Eastern North Carolina," with Paul Ferguson, p. 456; "Canoe/Kayak Paddle Trails & Civil War Sites of Tarboro & Edgecomb County," Town of Tarboro.
Getting there: Set your shuttle at the take-out at Riverfront Park, take NC 33 to the put-in at Bells Bridge.  For a map, go here.
Difficulty: Easy
Length: 10.4 miles
Time to complete: 3-5 hours
County: Edgecomb
Nearest town: Tarboro
Put-in GPS coordinates: 35.55704, -77.32907
Take-out GPS coordinates: 35.53705, -77.31718
9. Tar River: Riverfront Park in Tarboro to NC 42
This paddle feels like you're leaving town for a vacation in the country. You get packed up, you put in at Riverfront Park, you pass under one big bridge (US 64), you pass under another big bridge (US 64 Bypass), the wastewater treatment plant — getting into the country can seem to take forever.
But then, after a mile or so the hustle and bustle of Tarboro and Princeton is in the rearview mirror. The object of your escape is at hand.
Which is to say, the jungle of eastern North Carolina that you've come to enjoy: riverbanks choked with vegetation, including bald cypress, that, despite the river widening up to 150 feet, gives the paddle an intimate feel. You'll also notice that the Tar reflects the relief of the coastal plane, traveling straight and unimpeded through the increasingly flat terrain.
An easy paddle, from put-in to take-out at the Old Sparta NC Wildlife Resources Commission boat ramp at NC 42.
More info and maps: "Pitt County Paddle Trails" map,  "Paddling Eastern North Carolina," with Paul Ferguson, p. 468.
Getting there: The put-in is at Riverfront Park on the southside of downtown Tarboro; the take-out is a 9-minute drive down NC 33 and NC 42. For a map, go here.
Difficulty: Easy
Length: 7.8 miles
Time to complete: 2-4 hours
County: Edgecomb
Nearest town: Tarboro
Put-in GPS coordinates: 35.53705, -77.31718
Take-out GPS coordinates: 35.47379, -77.33095
One minute on Lower Tranters Creek you're paddling through someone's backyard; round a bend and you're in the middle of nowhere. Another bend and — Hey, nice deck overlooking the water! It's the variety and surprise of this stretch that make it a popular paddle destination.
Tranters Creek begins well north of US 264. And while you'll find upstream access marked on maps, the reality tells another story. There's an access listed at US 264, but unless you're into hauling your boat 50 yards over riprap and dense vegetation, the NC Wildlife Resources Commission launch at Clarks Neck Road is your best bet for hassle-free access. The good news: most of the powerboats that put in here head downstream to the Tar River, a short distance away.
Head upstream and you may encounter some local boat traffic, but not much. Near the put-in, Tranters Creek is nearly the width of a football field; by the time it reaches US 264 nearly 11 miles upstream, you're looking at less than two first downs. With an elevation drop of less than a half a foot per mile, the current is negligible, making for easy upstream paddling, a slightly easier return.
If you're looking to give civilization the slip, Tranters isn't your paddle. But if you're looking for an easy social paddle with variety, its easy access makes it a good bet.
More info and maps: "Paddling Eastern North Carolina," with Paul Ferguson, p. 468.
Getting there: From US 264 west of Washington, go west on Clarks Neck Road. The access is 0.6 miles, on your left. For a map, go here.
Difficulty: Easy.
Length: Out and back paddle. It's 1.4 miles to the Tranters Creek Resort and Campground, river left; 10.9 miles to US 264.
Time to complete: Varies, but a typical trip is 1-3 miles.
County: Beaufort County
Nearest town: Washington
River access GPS coordinates: 35.33773, 77.05081