For each of our GetHiking! markets, we've selected two hikes that are beginner friendly (three miles or so, no bouldering required) and beautiful. We offer a quick description, then a link to where you can find information on how to pay a visit. (For additional options, check out our GetHiking! Resource Page.)
North Carolina New Year's Hikes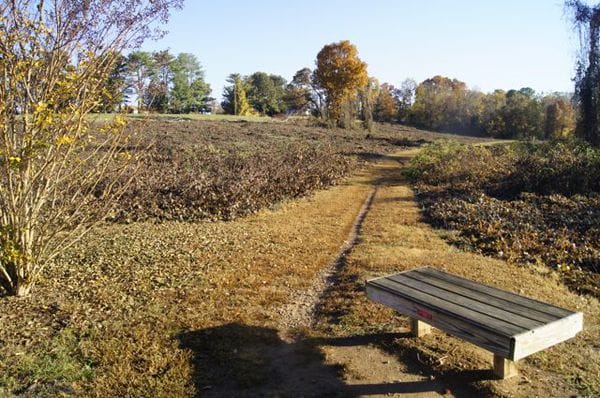 Charlotte
RibbonWalk Nature Preserve, Charlotte. 3 miles. Think you don't have time to drive to a trail? Then you don't know about Mecklenburg County's nature parks, oases of escape in the midst of the Queen City. RibbonWalk is among the most unlikely, 188 well-hidden acres housing 200-year-old beech trees and a plethora of plants and birds. More info here.
Rural Hill Nature Preserve, Huntersville. 2.5 miles. Looking for real escape? Then how about escaping to the Scottish Highlands, through bogs and hills covered by short grass, at this 487-acre former plantation begun by Scottish immigrants. More info here.
Triad
Cedarock Park: Cedarock Trail, Burlington. 2.5 miles. This 414-acre park's got it all: mountain biking, canoe rentals, two 18-hole disc golf courses, fishing, and hiking. Low hills, wetlands, a creek — even a waterfall! More info here.
Greensboro Watershed Lakes: Piedmont Trail, Greensboro. 3.2 miles. With more than 40 miles of trail to chose from along lakes Brandt, Townsend, and Higgins, why this one? It's flat and very beginner friendly, for one. But mainly, the impressive kudzu patch blanketing the entrance is  a good introduction to southern landscape. More info here.
Triangle
Umstead State Park: Loblolly/Reedy Creek/Reedy Creek loop trail. Raleigh. 4.2 miles. This hike's a little beyond the 3-mile limit, but there's good reason. The first 2.2 miles is on rolling singletrack trail that meanders over low, wooded ridges and across three small creeks, offering a great slice of Piedmont hiking. Then, it's a little more than 2 miles back on mellow, foot-friendly bike & bridle trail. More info here.
Eno River State Park, Fews Ford Access: Buckquarter Creek Trail. Durham. 1.5 miles. No hiking experience in the Triangle is complete without a stroll along the banks of the feisty Eno. The trail follows the rocky river, follows a ridge overlooking the rocky river. And, midway, if you decide a mile and a half isn't enough, you can tack on the 2.6-mile Holden Mill loop for more of the same. More info here.
Greenville area
Goose Creek State Park: Ivy Gut Trail. Washington. 2 miles. Winter is the best time to hike a coastal swamp, which is what most of Goose Creek State Park consists of. Boardwalk elevates you over the wettest of the wetlands, the trail in general gets you up close to a lush coastal swamp community with more vegetation than your guests likely dreamt possible. More info here.
Croatan National Forest:

12.31.2020 UPDATE:  The north portion of the Croatan Trail, from NC 306 to the Pine Cliff Recreation area, remains closed. The 1.5-mile stretch from the south end, from the Oyster Point Campground to Mill Creek Road, would be a good 3-mile alternative.

Neusiok Trail. Havelock. 3 miles. The Neusiok Trail actually runs for 21 miles, but an introduction from the northern terminus, at the Pine Cliff Recreation Area, in the form on an out-and-back (walk 45 minutes out, then return) takes you along the mile-wide Neuse River, atop a 40-foot bluff and through a coastal pine savannah. More info here.
Virginia New Year's Hikes
Charlottesville
South Falls River Circuit, Shenandoah National Park. 3.3 miles. There's no question that you're taking them to the Shenandoah, the only question is where? This hike off Skyline Drive rewards with South River Falls, at 83 feet the third highest waterfall in the park. The circuit includes the chance to hike the Appalachian Trail, too. More info here.
White Rock Falls Circuit, Shenandoah National Park. 5 miles. Another waterfall hike, and while perhaps not as stunning as South Falls, it has one advantage: if there's been snow or ice, you can still get to it: though along the Blue Ridge Parkway, it's on one of the few stretches maintained in winter. More info here.
Virginia Beach
First Landing State Park, Bald Cypress Trail. Virginia Beach. 1.8 miles. First Landing is such a gem: with 19 miles of foot-friendly trail and with loops short and long, it's the ideal escape from the hectic holidays. A good option: the Bald Cypress Loop, which shows off the park's bald cypress swamp. More info here.
Great Dismal Swamp National Wildlife Refuge, Chesapeake/Suffolk. Various options. Part of the allure here is giving your visitors the opportunity to return home and boast that they penetrated the Great Dismal Swamp, an area so wild it befuddled many an early-day explorer. There's also a unique serenity here, wandering the various "ditches" that attempted to tame this 112,000-acre forested wetland. Download the NWR trail map, pick a ditch and hike. More info here.