On Sept. 9, the Mountains-to-Sea Trail celebrates its 42nd birthday. Now, if you were a prestigious trail running 1,175 miles across a prestigious state, how would you observe your birthday?
By encouraging people to walk on you, of course.
That's just what our friends at the Friends of the Mountains-to-Sea Trail are doing — encouraging you to hike the MST on its birthday (well, it's birthday season, which runs from Friday, Sept. 6 through Sunday, Sept. 8) by sponsoring 27 guided hikes across North Carolina. 
Twenty-seven! That's a lot of great hikes to chose from. To help you decide which birthday hike is right for you, we've identified a few that we think might fly under the radar. So we're putting them on yours!
Today, five birthday hikes in the Piedmont; tomorrow, six hikes in the mountains and at the coast/coastal plain. We give you the basics, briefly share what we love about the hike, then provide a link to where you can learn more and sign up.
Mountains-to-Sea Trail around Pilot Mountain
When: Sunday, Sept. 8, 2 p.m.
Where: Pinnacle Hotel Road Parking Lot, 371 Culler Road, Pinnacle 
Sponsoring Town: King
Distance & Difficulty: 6.2 miles, Moderate
Why we love this hike: In spring and fall especially, all the world loves Pilot Mountain State Park. So much that the park website frequently bears the warning that it may take 30 minutes for you to find a place to park. That's on top of the pinnacle, where the masses flock for Pilot Mountain's renowned views. This hike sneaks in through the park's back door, a secondary access off Pinnacle Hotel Road on the south flank of the mountain. You'll always find parking here, and while you may not find Pilot's revered views, you will find solitary hiking on a (mostly) gently rolling trail meandering through a mature forest with little understory (which yields good views in a more subtle way). There's some nice rock outcrops, and a little more than midway through, you pass the park office, with restrooms and water. 
Après hike: After hiking a 10K, you'll be mighty hungry. We suggest taking Pinnacle Hotel Road back into the town of Pinnacle, then heading south on Old U.S. 52 into King, where you'll find your nearest options for a tasty repast!
For more info and to sign up, go here.
Indian Creek Trail at Hanging Rock
When: Saturday, Sept. 7, 10 a.m.
Where: Visitor Center at Hanging Rock State Park, 1790 Hanging Rock Park Road, Danbury
Sponsoring Town: Danbury
Distance & Difficulty: 3.5 miles, Moderate
Why we love this hike: First, it's all downhill, which is hard to beat, especially if you're just starting to get your hiking legs under you. Then there's the fact that you hit two waterfalls — Hidden and Window — in the first six-tenths-of-a-mile. Part of the beauty of the falls is, well, their beauty. But part, too, is the fact that this is where 95 percent of hikers on Indian Creek Trail turn back: you'll have the next 3 miles or so basically to your lonesome, descending through maturing woods on an exceptionally blissful journey that offers what a trail should: escape. You'll wind up at the Dan River, where you may not be surprised to find yourself wanting more. Fortunately, you can sate that desire with 1.3 miles of extra credit hiking on the Riverbluffs Trail. If you're looking for a good workout, meet at the Dan River at 8 a.m. and hike up the trail to the Visitor Center, then hike back with the group. 
Après hike: There will be a gathering at the Green Heron Alehouse located on the Dan River.
For more info and to sign up, go here.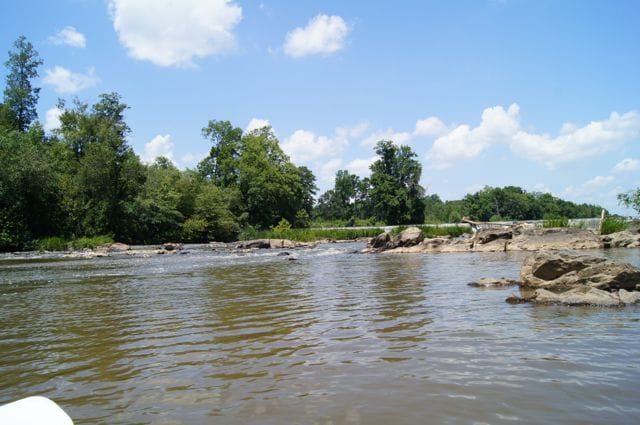 The MST at Glencoe
When: Saturday, Sept. 7, 9 a.m.
Where: Glencoe Paddle Access, 2348 Glencoe St, Burlington
Sponsoring Town: Burlington (Burlington Recreation & Parks)
Distance & Difficulty: 2.75 miles, Easy
Why we love this hike: This hike is chock full of variety. The Glencoe Paddle Access trailhead offers a classic view of the Haw River, in all its rocky, feisty glory. From there, the hike will travel upstream, passing through the historic mill town of Glencoe (more on that shortly), then onto an old gravel road and then single-track trail through a nicely wooded area to Great Bend Park. Here the hike will reverse course and head back to Glencoe, but not before taking a short diversion to check out the Glencoe Mill Dam and more views of the Haw. Back in Glenocoe you'll get a feel for the mill as it once was, and as it's trying to become. You'll see renovated mill houses, and you'll have a chance to learn more about mills and mill culture in North Carolina at the Textile Heritage Museum.
Après hike: Visit the aforementioned Textile Heritage Museum, 2406 Glencoe St., which is open until 5 p.m.
For more info and to sign up, go here
MST through Clayton (Sam's Branch Trail Greenway)
When: Friday, Sept. 6, 8:30 a.m.
Where: Sam's Branch Greenway Trailhead, 1358 N. O'Neil St., Clayton
Sponsoring Town: Clayton
Distance & Difficulty: 6.5 miles, Easy
Why we love this hike: The hike starts on the Sam's Branch Greenway in Clayton, which traces its namesake creek for a mile and a quarter before hooking up with the Neuse River Greenway, part of the MST. This stretch includes public art and a cool pedestrian bridge as it follows its namesake creek to the Neuse. There, you'll hike upstream along the Neuse to the Wake County line. And don't let the distance intimidate you: this is relatively flat hiking on a 10-foot-wide paved path (which makes it very stroller-friendly and a good option for young families. Shuttle service will be provided back to the trailhead.
Après hike: Stretch your legs a little more by checking out the Town of Clayton's Sculpture Trail. Find a brochure here.
For more info and to sign up, go here
MST through Smithfield (Buffalo Creek Greenway)
When: Saturday, Sept. 7, 9 a.m.
Where: 305 S. Front St., Smithfield
Sponsoring Town: Smithfield
Distance & Difficulty: 1-3 miles (hikers can about-face at anytime on this out-and-back hike)
Why we love this hike: We generally think of trails in terms of their recreational value, and this hike certainly has that, starting along a scenic stretch of the Neuse in downtown Smithfield. But there's also function to this trail, which follows the Neuse for a ways before heading inland to Community Park and the Smithfield Recreational & Aquatic Center. The 2.94-mile greenway is paved, making it stroller friendly, and bikes are welcome, though don't let that get in the way of learning about the flora and fauna along the way, as well as the local history, as shared by hike leader Kristin Sasser. 
Après hike: Check out the Ava Gardner Museum in downtown Smithfield, celebrating the life of one of Hollywood's most talented leading ladies, who called Smithfield home.
For more info and to sign up, go here.
Happy 42nd, MST!
Learn more about the Mountains-to-Sea Trail's 42nd Birthday celebration and other hikes in the series by going here.
Learn about how you can celebrate the MST's birthday on a hike in the mountains or at the coast, here.