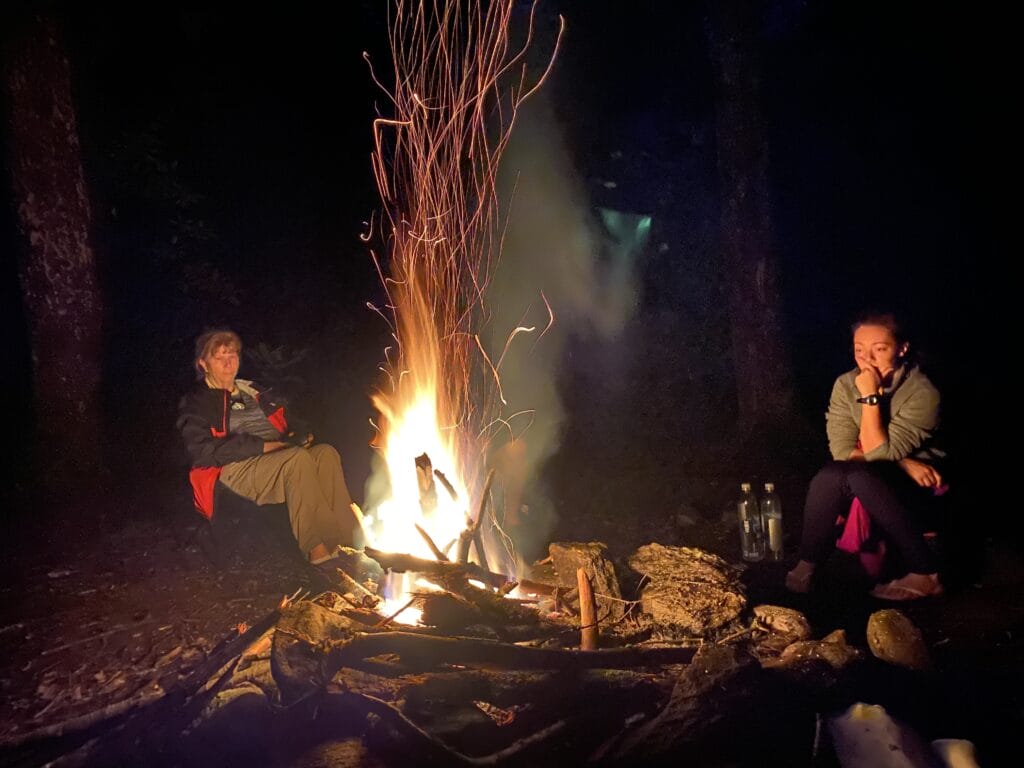 Here's a misperception about camping: It's a three-season activity.
Spring, summer, fall — sure, who can argue with the notion that the best place to live from March through October is outdoors. But if you'll indulge us, we'd like to make a case for winter, camping's fourth season.
First, two big advantages of winter camping:
You can get a campground reservation. Even at the last minute, it's easy to score a reservation at even the most popular public campgrounds. Even the ones that may only open a fraction of their spaces come winter.
You'll have the campground to yourself. Generally, a campground isn't the place to seek solitude. But it is come winter.
OK, on to the main concern most people have about camping in winter: keeping warm.
First, some facts. We've just entered November, which folks in these parts view as the start of the cold-weather season. Yet the average high temperature for the month in the central Piedmont is 61, the average low 40. Even come December, the average high is 54, the low 33. With the right preparation, those temperatures are pleasant to camp in.
Glad you asked. Let's start with the proper way to dress for winter camping.
So much of staying warm in cold weather comes down to wearing layers. Layers provide pockets of insulation warmed by the body; the more layers you have, the less body heat you'll lose (and remember, you're a furnace that runs at 98.6 degrees, give or take). Up top, that might mean wearing a thin long-sleeve T-shirt topped by a heavier fleece-type garment — the Patagonia Insulated Fjord Flannel Jacket, for instance. If it's extra cold, top that with a shell (Patagonia Torrentshell 3L Jacket). For your legs, a good base layer is the Smartwool Merino 250 Baselayer).
The top concern for most people when it comes to winter camping is sleeping comfy and warm. There's no need to invest in pricey, camping-specific sleeping bags when you can buy a down Rumpl blanket that will keep you warm both at camp and at home. (For additional warmth insurance, you might also want to bring an extra blanket or two from home.) For comfy, we recommend the ExPed Airmat HL Duo and ExPed Airmat HL, with nearly three inches of cush to guarantee a home-worthy deep sleep. Both sleeping pads come with our GetCamping! Rental Kit (see below for details).
As for sleepwear, keep in mind that it's your personal furnace that generates the heat that that Rumpl Down Blanket is retaining, so you don't want to bundle up too much. Rather, long johns (that Smartwool Merino 250 Baselayer we mentioned earlier topped with the Smartwool Merino 250 Baselayer Crew, along with the aforementioned Farm-to-Feet Damascus socks (an extra pair, designated for sleeping), and the OR Melody Beanie should do the trick.
Other ways you can stay warm and happy on a winter camping trip:
Eat well. Your body burns more calories when it's trying to keep warm: take that as license to indulge, just a tad, when you cold camp. It's especially important, at least from a psychological standpoint, to have warm food. That's why our GetCamping! kit includes a a Primus Propane 2 Burner Camping Stove and the GSI Glacier Stainless Base Camper cook set. If love what you cook at home, you'll love it even more at camp. (Here's a recipe for Hearty Camp Out Chili from 50campfires.com.
Let there be light. And lots of it. We're off Daylight Saving Time now, which means the sun sets early (at 5:16 p.m. today!). Thus, you'll need some artificial light. Again, that's part of the reason we provide a lantern (the UST 30 Day Duro, with up to 1,000 lumens of LED light) and a Black Diamond Spot headlamp in our GetCamping! kit.
Audio books. One of our favorite things to do camping? Wind down the day by crawling into the tent and reading a good book. With cold weather camping, however, you may find your hands getting a bit cold holding a book outside the comfort of your down blanket. Thus, we recommend audio books (or your favorite podcasts) for winter.
And our final and most important bit of advice?
Start a fire! The reasons we as humans are attracted to fire may date back as far as a million years. They are complicated (the psychological allure) and simple (the need to stay warm). Without getting too deep, suffice it to say that no campground camping weekend is complete without a campfire. It keeps us warm, it gives us something to make s'mores over, it keeps the conversation going well into the night. It's magic, really, and you should not deprive yourself of this vital camping component. And you don't need to be a seasoned woods-person to start one. Most campgrounds sell seasoned, cut firewood and kindling that starts with a well-placed lit paper towel. Two key things to remember about your fire: 1. Stand extra close right before you head to sleep; that warm glow will keep carry over and help warm your sleep nest; and, 2. Before you head to sleep, make sure your fire is out completely, dousing it until the last glowing ember is no longer glowing. This will help you sleep extra well.
Camping's fourth season is underway. Put a camping trip on your winter to-do list.
NO GEAR? MEET GETCAMPING!
Our GetCamping! program lets you sample the joys of winter camping without investing in gear you may not have. Our rental kit includes a tent, air mattresses, camp chairs, hammock, lights, stove and cook-set. Rent the kit for the weekend, or pamper yourself with our Concierge Service and we'll handle the nitty-gritty, from reserving your campsite to setting up camp to breaking it down and tidying up. Learn more about our GetCamping! program here.