Cool, sunny days. Even cooler, clear nights. Lots and lots of seasonal color. An overwhelming urge to disconnect.
Welcome to fall, the peak season to go camping — especially in 2020.
The combination of kaleidoscopic color and perfect weather have long made fall the best time to camp in the Southeast. Sweetening the deal even further is the fact it's 2020 and: a) your travel options are limited; and, b) being outdoors is about the safest place you can be right now, especially as the weather turns cooler.
This fall, we've sweetened the deal even more with our GetCamping! program. Don't have your own camping gear? GetCamping! will supply it for you. In fact, we'll even reserve a campsite and set your camp up for you! Find details about GetCamping! at the end of this post.
Right now, we want to fill you in on five of our favorite campgrounds, campgrounds where, right now, you can best capitalize on fall color. Four are along the Blue Ridge Parkway, anywhere from 2 1/2 to 4 hours from the Triangle. The other is in the Triangle's backyard.
A quick note: This is prime camping season and reservations for these campgrounds get snapped up fast. However, all set aside a goodly number of "FF" sites — first come, first served. That means that if you plan on heading up this weekend (Friday, Oct. 16 through Sunday, Oct. 18), you probably can't reserve a spot, but if you head up early you should be able to snag one of the FFs. For each campground below, we've included the number of FF sites available. If you plan on heading up on a subsequent weekend, you should be able to reserve a spot at the website listed.
Milepost 167, Blue Ridge Parkway
Cost: $20 per night (tent, non-electric)
Drive from the Triangle: 2.5 hours
Why you should go: The campground sits atop the Blue Ridge, with tent sites nestled in a wooded area that gives way to rolling mountaintop meadows. Explore the meadows — and the resulting great views — on the 3-mile Black Ridge Trail, which utilizes hiking trail and old gravel roads to showcase nature and the region's human past. If you're an avid hiker, you're in luck: the 10.8-mile Rock Castle Gorge Trail explores more of those mountain-top meadows before plunging into its namesake gorge and exploring the mature hardwoods that cling to the steep slopes. Along the way, look for old stone chimneys, long-abandoned apple orchards, and other signs of the area's civilized past.
Linville Falls Campground
Milepost 316.4, Blue Ridge Parkway
Cost: $20 per night (tent, non-electric)
Drive from the Triangle: 3.25 hours
Why you should go: Linville Gorge, walkable from the campground, is one of the wildest places to explore on the East Coast — and one of the most tame. On the tame side, Erwins View Trail, which you pick up from the Visitor Center, is a 1.6-mile roundtrip hike with overlooks at 0.5, 0.7, and 0.8 miles, giving you the opportunity to appreciate the gorge's ruggedness without paying the steep price of admission. If you choose to pay that price, however, head down the Kistler Memorial Highway (a wryly named Jeep road) and pick up one of eight or so trails that descend into the gorge. Note: don't be deceived by the short mileages; you'll earn every step you take.
Milepost 297, Blue Ridge Parkway
Cost: $20 per night (tent, non-electric)
Drive from the Triangle: 3 hours
Why your should go: For starters, there's the 2.7-mile trail looping around Price Lake, renowned for its lakeside color and view of Grandfather Mountain. There's also the 5.5-mile Boone Fork Loop, which includes passage along a particularly frisky stretch along Boone Fork, where water falls every which way over collections of giant boulders. And there's the Mountains-to-Sea Trail: head east for an invigorating climb to Moses Cone Park, head west and pass through small meadows before being immersed in a dark forest just shy of the Boone Fork Overlook along the Parkway. And did we mention you can pick up all of these great hikes from the campground?
Milepost 408.8, Blue Ridge Parkway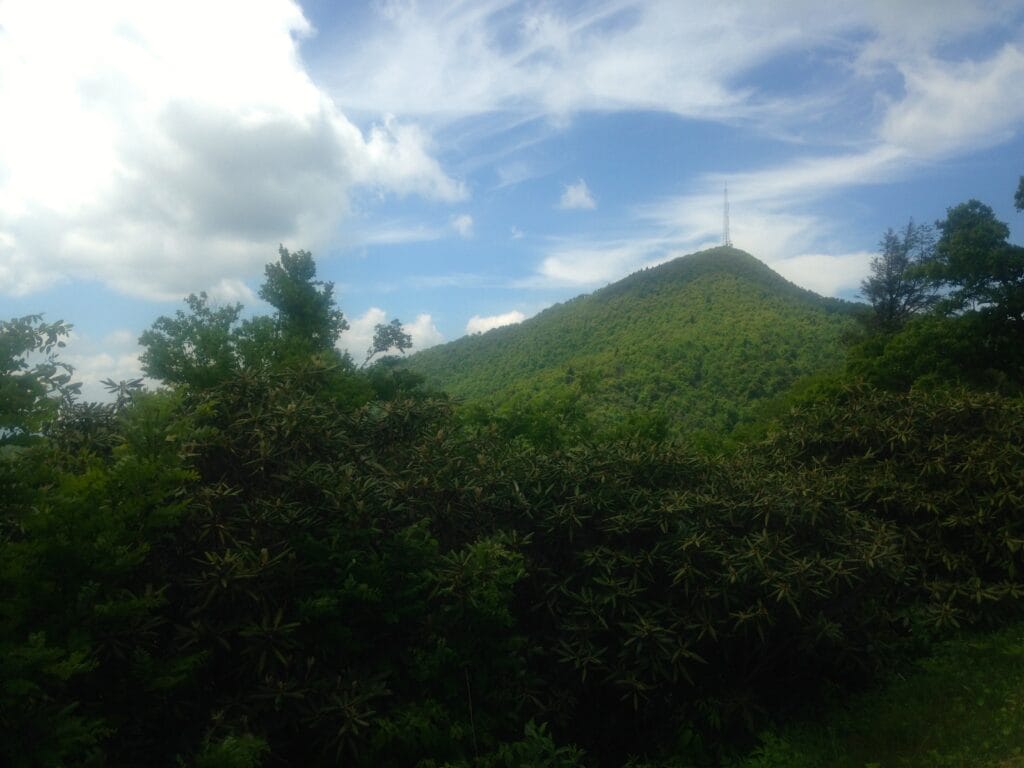 Cost: $20 per night (tent, non-electric)
Drive from the Triangle: 4 hours
Why your should go: Ah, the Mount Pisgah Campground, at nearly a mile above sea level, this is where the fall color begins — and is currently in full bloom. Trails abound both from the campground and a short distance away. From camp, climb to the summit of 5,721-foot Mount Pisgah (round the last bend on the trail and you are greeted by — whoa! — a 339-foot communications tower), pick up the Shut-in Trail, which offers vast views of the Biltmore Forest to the east, or explore the Mountains-to-Sea Trail in both directions. A short drive west on the Parkway takes you to Graveyard Fields and Black Balsam, two jumping-off points to some of the best high-elevation hiking in the Southeast.
Jordan Lake State Recreation Area
Cost: $26 per night (tent, non-electric)
Number of FF sites: More than 1,000 tent sites total across three campgrounds, with hundreds of sites available on the a first come, first served basis.
Drive from the Triangle: Probably no more than a half hour, depending upon where you live.
Season: Some sites are open year-round.
Why you should go: Love the idea of a fall camping trip but not the idea of driving up to four hours (or more). Let fall come to you, on the shores of Jordan Lake. In fact, fall has gotten an early start along the shores of this 14,000-acre lake. Shorter trails in and around the campgrounds let you sample the color; there's also a 5.4-mile hiking trail in the New Hope Overlook area. Bring your canoe or kayak and check out the color from the lake; if you come during the week, rentals are available from the Crosswinds Boating Center.
Let GetCamping! help you get camping
Under our new GetCamping! program, you don't need highfalutin camping gear — we provide it for you. Our GetCamping! kit includes: a 6-person tent, air mattresses (for a great night's sleep), two rockin' (literally) camp chairs, a hammock, tarp, a lantern, a headlamp, a camp stove, stainless steel cook-set and place setting for four. For what we don't provide, we provide you with a list suitable camping substitutes that you likely have at home.
You can GetCamping! in one of two ways:
1. DIY Rental If you have some camping experience or simply are good at figuring things out, you can rent the kit. We'll make arrangements for pickup, typically between noon and 2 p.m. on the Friday preceding your weekend camping trip, and will include instructions on how everything works. You'll also receive the aforementioned list of appropriate household substitutes.
2. Concierge service. Setting up and taking down camp can entail a fair amount of work. Wouldn't it be swell to simply show up and have camp magically waiting for you? That's the plan with our concierge service. On certain weekends at given campgrounds, all you have to do is arrive at the appointed check-in time and your camp will be set up and ready for you.
Cost of the DIY Rentals is $195 for a 3-day, 2-night weekend; cost of the concierge service is $295 for a 3-day, 2-night escape.
Go here for more information and to reserve a kit or concierge service.