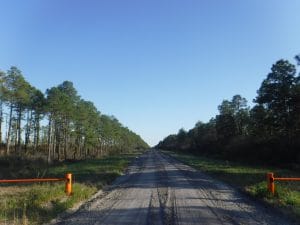 May is Mountains-to-Sea Trail Month. We plan to celebrate by hiking four sections of the MST running through the coastal plain, a newly designated route known as the Coastal Crescent. Our first hike was May 14 on the MST as it passes through Bladen Lakes State Forest, Jones Lake State Park and Turnbull Creek Educational State Forest. Our second hike is this Saturday, on the MST (and adjoining trails) as it passes through the Holly Shelter Game Lands. For more information and to sign up, visit GetHiking! Triangle.
There are few wide-open spots in North Carolina were you feel removed from civilization. The Appalachian Trail at Standing Indian Mountain, perhaps, where the view over the protected Coweeta watershed is long and possibly not much different than when William Bartram passed through two and a half centuries ago. The Cape Lookout National Seashore: nothing but sand, water, sky. Zeke's Island near the tip of the Cape Fear peninsula, an expanse of wetland that fades into the Atlantic, but where it does you can't quite tell. The Alligator River National Wildlife Refuge, home to every critter in the state that might have equal footing to us on the food chain: black bears, alligators, red wolves.
Those spots all share a protective gene that makes them either hard to get to, or that deters visitation for fear of getting et.
Not so the Holly Shelter Game Land, a 63,500-acre expanse of pine savannah and pocosin between Wilmington and Jacksonville that offers easy access via a 19-mile run of the Mountains-to-Sea Trail. Part of the MST's newly christened Coastal Crescent route, an arc swinging southeast from Smithfield to Jacksonville, the Holly Shelter stretch may offer the best opportunity for prolonged reflection of any trail in the state.
After spending miles on two-lane country roads, the MST leaves the blacktop of Shaw Highway and heads east on the dusty Lodge Road. During hunting seasons, vehicles are allowed on Holly Shelter's gravel roads the double as trails. Even then, the occasional pickups are few and far between. At first, the long, straight stretches that comprise the MST may seem daunting: you can walk and walk and never seem to make much progress in terrain that, to the inattentive hiker, may seem monotonous. On the contrary, the dense jungle along much of the way is mesmerizing in the fascination of what it holds and hides, and what the patient hiker might see if he or she pays close attention. This sort of spectating is accommodated by a flat and generally smooth trail that demands little attention.
In 3 miles, Lodge Road reaches a crossroad, with the intersecting New Road. On down Lodge Road is a moonscape of open field and burned trees, the result of an intense peat fire in 2011 that burned for more than two months (it took Hurricane Irene to finally put it out) and torched 31,000 acres. What may look like a simple natural disaster — the fire was set by a lightening strike — in fact is playing a key role in the ecosystem, an ecosystem that depends on periodic fire to thrive. The forest's dominant longleaf pine, for instance, relies on the heat from such fires to pop its seeds from its cones.
A right turn onto New Road is followed by turns on similar gravel roads — Military, Tram — as the MST right-angles its way across the game land. En route, the dense pocosin jungle periodically gives way to pine savannah, the barren forest floor a sharp contrast.
Not surprisingly, this being a game land, the potential for wildlife viewing is high. Deer, bear, turkey, fox, rabbit, raccoon and squirrel are prominent as are quail, dove and waterfowl. The area is also a popular viewing ground for the Venus flytrap and other carnivorous plants. (So abundant with Venus flytraps is Holly Shelter that last year four men were arrested and charged with poaching 1,500 plants.)
To MST thru-hikers, the Holly Shelter run offers welcome relief for the roads (though it is 19 miles between sanctioned campsites). If you're simply interested in sampling the trail through Holly Shelter, shorter loops (5-7 miles) and be hiked using Lodge and Tram roads near the US 17 entrance.
Even if you simply sample the MST through Holly Shelter it won't be long before you give civilization the slip.
* *  *
GetHiking! in the Holly Shelter Game Land
When: Saturday, May 21, 10 a.m.
Where: Holly Shelter Game Lands, Hampstead. U.S. 17 entrance (GPS: 34.410058, -77.656863)
Join our GetHiking! group for a 10-mile hike at Holly Shelter as part of our May celebration of Mountains-to-Sea Trail Month. We'll follow the advice above, hiking about 10 miles on the Lodge Road and Tram Road sections on the game land's east side. The hiking is flat and will take in both pine savannah and pocosin.
More information: Visit our GetHiking! Triangle site here.