It was a day much like any other. In fact, I wasn't even sure what day it was. All I knew was that, like I had s many days in a row, I would have a quick breakfast, then embark on my morning hike. Midway through my peanut-butter-and-banana toast, though, I was consumed by a wave of ennui. Odd, I thought: I love to hike. It's how I make a large part of my living, by taking people out on hikes. And yet, I suddenly found myself less than excited about hitting the trail. Then it hit me why.
Sunday afternoon, I'd set out to take a short hike. Maybe an hour, just a quick escape. When I arrived at a relatively little-known hiking spot, one where I'd never seen more than three cars at the trailhead, there were 13 lining along the road. OK, there's always Plan B. A 10-minute drive and — wow, four cars at a spot where I'd only ever seen one before. Same thing at Plan C.
I needed a new escape, one where I could find a little solitude. Sunday wasn't a fluke, either. With fewer trails open, fewer entertainment options, and with spring weather at its finest, it seemed like everyone was hiking.
And then it hit me: maybe I needed a different kind of trail. A blue trail, perhaps.
I used to paddle a lot, and knew all sorts of places nearby where I could put in and within minutes, be detached from the world. Since I already knew the places, all I needed was a kayak, one that I could hoist onto my roof rack by myself, one that was fun to paddle, one that wouldn't break the bank. And I was pretty sure I knew where I could find one.
Hello Trusty, my old friend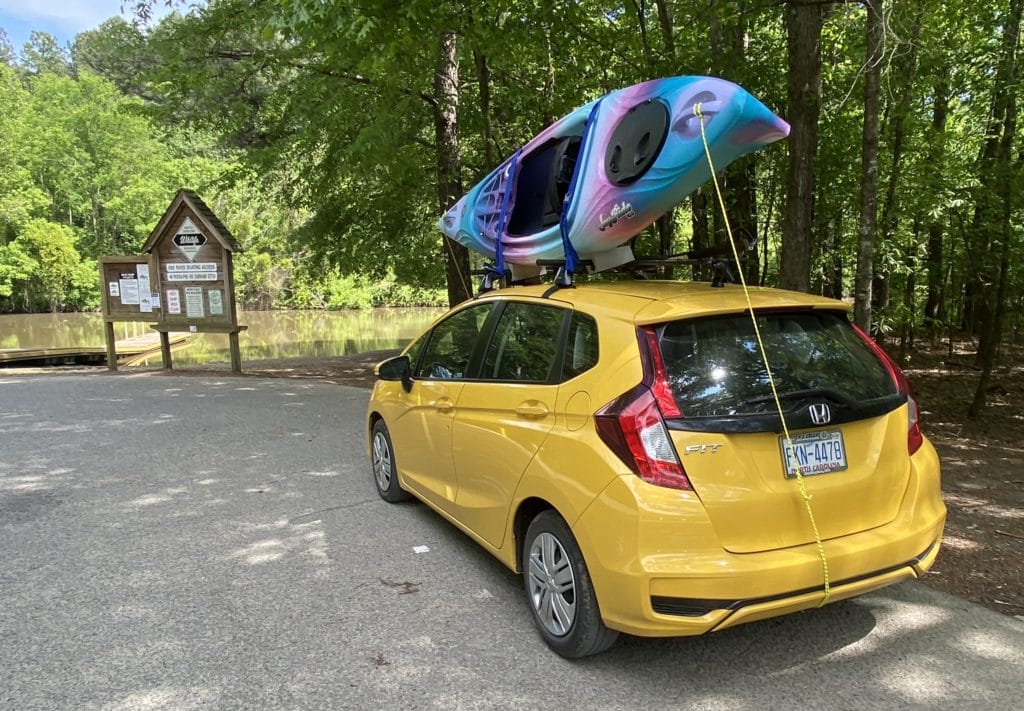 I've shopped at Great Outdoor Provision Co. since moving to the Triangle in 1992. I was introduced to the regional outfitter's customer-focused approach at their old store in Cary Town Centre. Later, my home store was the mothership in Raleigh's Cameron Village. Today, a spend a lot of time patrolling their creaky floors at their Chapel Hill shop in Eastgate Crossing. I knew that while they had had to temporarily close their shops to in-store shopping, they were offering curbside pickup and had just opened an online store.
I went to the Great Outdoor Provision Co. website, clicked on "Products," then "Paddle," then "Kayaks," and was in lookie-loo heaven. Fishing kayaks, touring kayaks, whitewater boats, tandems, sit-on-tops, recreational boats. Each boat's price was clearly marked, helping to winnow the options. I jotted some names — Wilderness Systems Pungo 125, Old Town Topwater 120, Wilderness Systems Tarpon 105, Perception Rambler 9.5, Perception Joyride 10.0 — then spent a half hour on YouTube checking out reviews. They all got thumbs up, especially the Wilderness Systems Pungo 125. And even though it was just under $1,000, a good price for a more performance-oriented recreational kayak, it was still a tad out of my price range. What wasn't, though, was the Perception Joyride 10.0, at $609.
I picked up the phone. "Great Outdoor Provision, this is Chad. How may I help you?"
"Chad, it's me," I said. Knowing Shop Manager Chad Pickens familiarity with his client base, I didn't need to elaborate. "I need a boat."
I explained my situation, told him about the YouTube research I'd just done, shared my conclusion. "That's a great boat for you," he agreed. "It's stable, you can take it on Class I and II water, and it's got a great price point." I told him I liked that it had a comfy, adjustable seat and that it came with a dashboard with a camera holder for selfies.
A paddle and a PFD, too, please
"I need a paddle, too," I said. This I hadn't researched. I was at Chad's mercy.
"Choosing a paddle for you is pretty easy based on what we know about you, your height, your torso length, your paddling style and the boat itself," Chad told me. He recommended the Aqua-Bound Manta Ray two-piece aluminum paddle, a "high horsepower blade" that was just $99.95.
"I also need a PFD." I was especially excited about the PFD: the last time I'd used one they were bulky contraptions that made you feel like the Michelin Man. The newer versions were trim and had pockets; they even looked tolerable in the heat of summer.
Chad thought about the Joyride and it's high-supportive back, mulled the options, then suggested the Astral V-8, touted by the Asheville-based manufacturer as "the world's first breathable PFD."
"Instead of having a thin back on the lower half it has no back, and all of the flotation you get on the back of this is up high," Chad said. "So this would pair well with your high-back seat." Plus, the $119.95 price tag paired well with my budget.
The best news: he had a Joyride in the shop. "It's a " — I crossed my fingers — "funkadelic." Of all the tie-dye-inspired color schemes the Joyride comes in, funkadelic was my favorite.
"When can I pick it up?" I asked.
"I'm here every day from 10 to 2."
"I'll be there in 20," I replied. To the batmobile!
While Chad would be in the store from 10 a.m. to 2 p.m., Great Outdoor, like so many retail outlets, remains restricted to curbside pickup. While you can now order online, you can also do as I did: call your local store, discuss your needs, and buy over the phone.
"One of the things that's nice about right now is that, without all the other things to do in the store, I can spend more time with customers, on the phone," said Chad. You pay over the phone, drive up to the front door, call the store's posted phone number and your purchase is brought out to the car.
"Hey Chad! I'm here," I said as I coasted to a stop.
"Be right out." Moments later Chad emerged with my Joyride on this right shoulder. "Be right back with the paddle and PFD."
Another advantage to the curbside pickup, for a boat at least, was that Chad showed me the right way to load a kayak (as opposed to the way I'd done it before).
I already had a roof rack for my bike (otherwise, I would have needed a pair of foam mounting blocks for about $30), so we were ready to load. Another reason I liked the Joyride is that it's relatively light: at 50 pounds, it's a weight I can manage to hoist onto the car rack.
Among the key things I learned as Chad, an engineer by training, narrated his mounting strategy:
If you have a rack with a kayak stacker, it's best to load a single kayak on the passenger side. "It's easier and safer if you have to stop on the road to make an adjustment."
Place the boat's cockpit facing out, to keep the straps off the hull of the boat and possibly damage the boat if the straps are too tight.
Buy tie-down straps a little longer than you think you'll need; it makes it easier to loop them over the boat.
Tie-down straps don't need to be "supper tight, just tight enough that the boat doesn't move."
Once you have the tie-down tightened just-so, tie a half-hitch underneath the buckle, as a backup.
For knots, "any type will do. I prefer a half-hitch because it's easy to undo.
From the time Chad crossed the transom with my Joyride 'til he tied off my rear tie down about 15 minutes had passed. It hadn't been three hours from the time I diagnosed my adventure malaise to having a boat strapped to my roof. In another 30 minutes, I would be on the water. And I would again be savoring the rewards of the outdoors.
Joe Miller unites people with the outdoors through writing and guiding trips, through his GetHiking! and GetBackpacking! programs. His latest book is "Explore Your Neighborhood: A Guide to Discovering the World Immediately Around You," available in paperback and ebook, here.
Learn more about boat and paddle equipment in today's blog:
Check out our other boats and our gear in general at our Great Outdoor Provision Co. website.