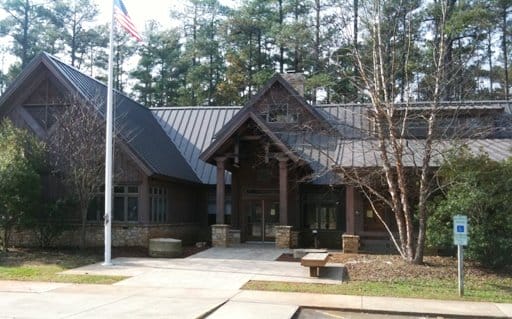 When North Carolina voters overwhelmingly approved a $35 million bond package for their State Parks in 1993, they did more than write a check for new parking lots, restrooms and visitor centers.
"It was a watershed event," says Lewis Ledford, who spent 37 years in the N.C. State Parks system before retiring as its director in 2014. "They conveyed to the administration, to the legislative body that parks were important to the citizenry.
"It was a watershed event."
With that $35 million, North Carolina's State Parks was able to build basic infrastructure — the roads, the parking areas, the restrooms, the visitor centers — that would make the parks more accessible to more North Carolinians.
"We'd long had a heritage of trying to protect the natural heritage," says Ledford, who joined the system in 1976 as a ranger at William B. Umstead State Park in Raleigh. "We just had limited financial support."
"It absolutely shifted the planet for us," adds Charlie Peek, longtime spokesman for the N.C. Division of Parks and Recreation. "It was the first time we'd ever had funding separate from appropriations, which were often very meager, and the margin of the approval was a real vote of confidence for state parks."
It also sparked an attendance boom: in 1988, fewer than 7.9 million people visited North Carolina's State Parks and Recreation Areas. Last year, attendance had risen to 17.3 million.
Connect NC: Continuing the trend
Ledford, who is now executive director of the National Association of State Parks Directors, says North Carolina can continue its tradition of protecting its natural beauty and showcasing it to the public with passage of Connect NC, a $2 billion bond package that goes before voters Tuesday. State Parks would receive $75 million of that total.
Forty-five parks projects would be covered by the bond. As was the case with the 1993 bond, they cover a mix of projects, including:
$3 million for campground improvements at Jordan Lake State Recreation Area
$2.8 million for a visitor center at Eno River State Park
$1.5 million for a family tent and trailer campground and cabins at Goose Creek State Park
$4.5 million for a visitor center at Pilot Mountain State Park
$750,000 for expanded parking and improved access at Crowders Mountain State Park
$1.5 million for land acquisition at Mount Jefferson State Natural Area
"Part of what this money will do is help us catch up with the growth from the '93 bond," says Ledford.
Expanding the '93 bond referendum legacy
During Ledford's 11-year reign, State Parks added 37,000 acres. More notable acquisitions included Chimney Rock and Grandfather Mountain. Both of those properties had extensive infrastructure in place and had minimal financial demands after purchase.
But many other areas were basically just land: Carvers Creek in the coastal plain, Mayo River and Haw River in the Triad region, Beech Creek Bog in the mountains. The Lower Haw River State Natural Area between Bynum and Jordan Lake came into the system in 2003 — 13 years latter it still doesn't have so much as a sign. (Under ConnectNC, it would receive $203,000 for development of a day-use access in Bynum.)
Trail improvements
No ConnectNC money is earmarked for trail improvement and expansion per se. But Peek says passage of Tuesday's bond could free up money for that purpose.
"For the past several years, we've set aside monies from the Parks and Recreation Trust Fund for trail maintenance and development," says Peek, who adds that amount has ranged from  $500,000 to roughly $2 million annually. "If we have bond funding for our larger projects — such as visitor centers, campgrounds, land acquisition, etc. — it protects that PARTF funding stream for trails.
"In other words, it would free up funding for continued maintenance of popular trails and creation of new ones."
There is, however, $4.5 million earmarked for land acquisition targeted to trails. About $1 million likely would go to the Fonta Flora Trail, a 26-mile greenway circling Lake James that was approved by the state last fall. The remaining $3.5 million also isn't specifically spoken for, but likely would go toward expanding the Mountains-to-Sea Trail in its quest to link Clingman's Dome on the Tennessee line with Jockey's Ridge at the coast. Currently, 672 miles of the estimated 1,100-mile trail are complete.
"What they have said about how they would use funds for the MST is that they would focus on parts of the trail that have been designated as 'near-term priorities' in the MST master plan," says Kate Dixon, executive director of the Friends of the Mountains-to-Sea Trail. Those near-term priorities are:
Mountains
Cherokee to Heintooga Road
Piedmont
Stone Mountain to Elkin
Greenway in Winston-Salem
Northwest Guilford County
Haw River in Alamance
Southwest Orange County
Hillsborough to Eno River State Park
Coastal plain
Improving parks, adding jobs
Ledford says there's another aspect of the bond money to consider in addition to the impact on State Parks.
"It's very important to remember that our parks are economic engines in own communities," he says. "There are the construction jobs that these projects would create, as well the additional visitors these new facilities will draw and the money they'll spend on gas, food, lodging. Jobs are an important component of this."
According to a 2013 analysis by N.C. State University's Department of Parks, Recreation and Tourism Management, North Carolina's State Parks's economic impact on the state exceeds $400 million annually.
Primarily, though, Ledford says Connect NC will help State Parks continue it's tradition of protecting North Carolina's natural heritage while giving more opportunities for its residents to live healthy lifestyles.
"Passage," he says, "would validate what we're trying to accomplish."
For a complete list of the 45 State Parks projects covered under ConnectNC, visit GetGoingNC.com.