Some people have an influential mentor who helps determine their career path. For others, their vocation is determined by lineage, by fate, by channel surfing.
Chapel Hill Store Manager Chad Pickens' career was launched by a burst appendix.
"We ate at a giant salad bar one night, then watched a terrible movie," Chad recalls of the series of events that would determine his career path. "My stomach was feeling funny when I went to bed. I figured it would be better by morning."
It wasn't. Come morning, he could barely stand and his abdomen was badly swollen. Maybe I should get this looked at, he thought. Immediately.
He limped to his car, managed to drive to WakeMed's Emergency Department, walked in the front door, threw up in the first available trash can, was quickly ushered into an exam room, and within a couple hours had his appendix removed — right about the time it burst.
Complications ensued and he was in the hospital for a month. During his stay and accompanying rehab period he had time to think. He was working part time at the old Great Outdoor Provision Co. store in Raleigh's Crabtree Valley Mall, part time in human resources for UPS, part-time as a mechanical engineering student at N.C. State.
"My plan at the time was to pursue a career in engineering or logistics like many of my friends. But laying in bed I got to wondering whether that was what I really wanted to do."
Delivering bazillions of boxes worldwide under tight deadlines or helping outfit people headed out on great outdoor adventures? Hmm.
Here, as the great Paul Harvey used to say, is the rest of Chad's story.
Q. How long have you been with Great Outdoor? How did you get started?
I started working for Great Outdoor Provision Co. at our former Crabtree Valley Mall shop in 1998.  Many of my best friends to this day date back to our time working in that shop.  The life-altering appendix episode was in 2001. After that, I did a stint working for Robin Hannon at our Cameron Village shop, then helped open our new store in North Raleigh. I made the jump to full-time and moved to Greenville to open and manage the store there 2005, then came to Chapel Hill in 2011 to manage this store. 
Q. What are some of the changes you've witnessed in your time with GOPC?
When I started in 1998, we had stores in Crabtree Valley Mall, Durham's Northgate Mall, and in Cary Towne Center. That made sense when we opened them in the 1980s, but the malls gradually shifted toward more nationwide retailers. We were local, and it wasn't as good of a fit. So we gradually left the malls. It was a different audience. I remember when I started at Crabtree Valley Mall, I spent a good deal of my time trying to explain why the socks were so expensive. Many of these folks These weren't hikers or backpackers; I had to sell the performance aspect.
Back in the 90s, I loved helping adventurers gear up for long, epic backpacking adventures. I feel like we've adapted our selection over the years so we can still equip folks for those types of trips, but we can also help customers find a great looking, colorful Patagonia rain jacket for a walk across UNC's campus, a pair of vibrant purple Chacos for a short stroll at Eno River State Park, or an ice blue YETI cooler for a family trip to the beach. Outdoor sportswear and outerwear used to come in three colors: hunter green, navy, and if you're lucky….sometimes red.  Now you can look great while enjoying all the benefits of performance apparel.
Q. Having been on the front lines of retail for 18 years, you've certainly seen a lot in terms of interesting customers. Any particularly entertaining stories?
When I was in Greenville, a guy came in looking for paddles and PFDs. He said he'd just bought a pair of kayaks — they were out on his roof racks, still in plastic, in fact. I told him I could get a better idea of what paddles would work if I could see his boats, so we walked out to the parking lot. The boats weren't very good, I showed him some much better boats that weren't much more expensive. So he decided to take his boats back and came back and got the two from us.
About 10 minutes after he leaves, the phone rings. "Chad," says the guy who'd just bought the boats, "I'm on (U.S.) 264 and I've got boats all over the road. Boats all over the road." I felt awful, since I'd put them on his racks. I told him I was on the way, that we'd get it taken care of, asked him to look around for a mile marker or a landmark. "No mile markers," says the guy. Then he comes back and says, "I'm just kidding you. Thanks for your help.  We're going to have a great time with these boats!"
Ha ha.
There was another guy, also in Greenville, who walked in the door and you could tell by the look of him that something wasn't quite right. I walked up, asked if I could help him. "Europeans aren't endurance," he said. Pardon? I said. "Europeans aren't endurance." Um, did you say, "Europeans aren't endurance?" "Damn right!" he said, perhaps thinking I was agreeing with him.  Turned out he thought the Europeans were lacking in endurance track and field races and he wanted to help them by transforming himself into an elite distance runner. He wanted to buy a bunch of specialized running gear.
Q.  Interesting. So how do you deal with … unique customers?
With that guy, I started invading his personal space. I'd take a step toward him, he'd take a step back. I'd take a step toward him … . Eventually, I got him backed up to the front door, apologized for the fact we didn't have track spikes and gear for elite track and field athletes, and wished him luck on his quest.
We get a lot of "unique" customers. I think they keep coming back because we'll talk to them.  We're genuinely interested in them, and we listen.
Q. Got a favorite instance of going above and beyond for a customer?
Once in Greenville a customer couldn't get her car started late one eveningG. So I slid under the car and bypassed the starter solenoid with a screwdriver. Started right up!  That expensive engineering education still comes in handy from time to time.  
Q. How does your mechanical engineering degree come in to play at Great Outdoor?
We pride ourselves on being creative problem solvers in the shop. We don't like telling people "No."
Q. What's your current favorite piece of gear?
My all-time favorite is the first Gore-Tex jacket I bought working here in 1998, a Mountain Hardwear Ethereal FTX. It retailed for $449, which was more money than was advised for my college-student budget at the time. I've worn that coat for almost 20 years, though, and the only problem I had was a couple years back the seam tape started to peel. I sent the coat back to Mountain Hardwear, promptly got a call from one of their sewers, and they fixed it.  Good as new!  I'm hoping for another 20 years of service out of it.
I also really like my Dana Designs Terraplane-X backpack, which I've had forever. I guess I'm just an old guy (Chad is 41) who likes to stick with old gear.
My favorite newer piece of gear is my 40-ounce Hydroflask, which is my everyday companion when I'm working outside. I fill it with icewater or a sports drink, and I can feel the fatigue lift when I drink from it on those scorching North Carolina summer days.
Q. Which outdoor pursuits are you particularly fond of?
We recently bought a home and some land in Hillsborough, NC— six acres, one horse, 26 chickens and we're aspiring to raise a few goats.  We're planning to get some kayaking time this summer with our small paddle fleet: a P&H Capella, a Necky Looksha IV, and a Hurricane Tracer 165.  
Actually, with the farm, I'm outdoors just as much as I've ever been. Just in a different way.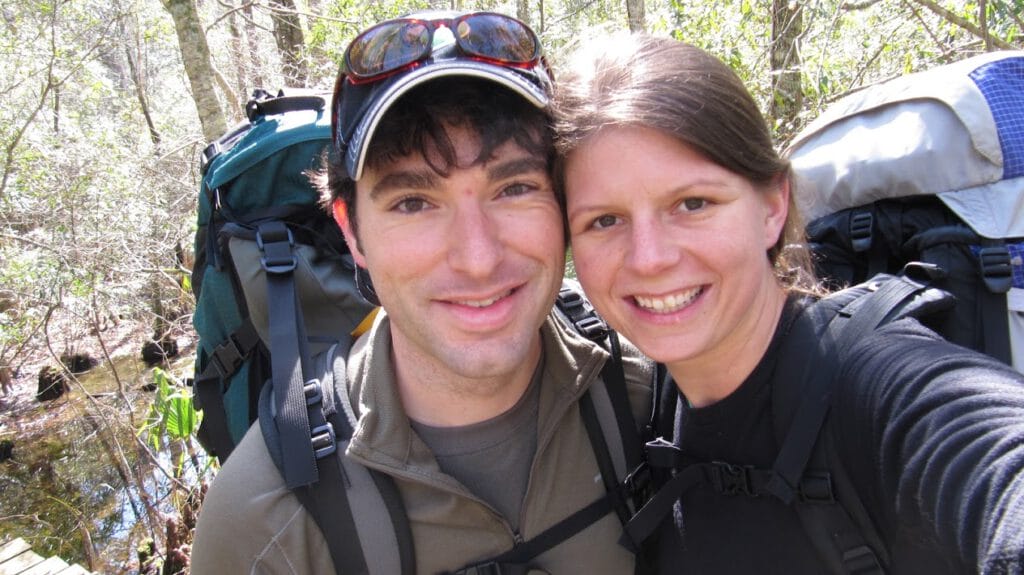 Q. Do you have a favorite adventure or epic trip?
Cape Lookout during the shoulder season. We love camping out there.
Q. What's the best part of your job?
Meeting lots of people and working with our energetic staff. That's my jam. Folks come in planning adventures, and I try to help them make it great by making sure they're properly outfitted. At the time, someone may not understand why they need a pair of $90 rain pants for their trip to Ireland. But when they come back, they're so thankful — I get a lot of hugs.
They tell me about their great trip, and I like to feel that I had a small part in making it great.  To me, that's the best job satisfaction I could ever get.