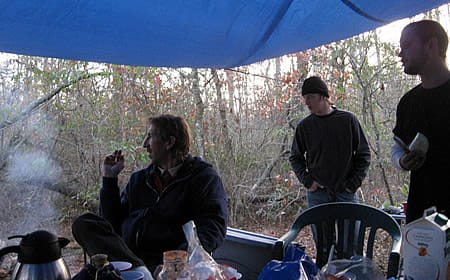 Not a planner? Or sometimes just get the urge for a last-minute weekend camping getaway?
Camping's popularity makes it challenging to find a decent campsite at the last minute, sans reservations. Challenging, but not impossible. Here are five pretty great campgrounds that, for whatever reason, seem to have open sites on even the busiest summer weekends.
Mount Pisgah Campground
Blue Ridge Parkway (North Carolina)
Milepost 408
52 reservable sites, 74 walk-ups; $20
Located at the foot of 5,721-foot Mount Pisgah, this is one of the highest campsites in the state and one that all but assures of a cool night's sleep. Privacy is a premium here as well, with most sites nestled into tight rhododendron groves that give the impression you're at a remote campsite. The Mount Pisgah camp store is across the road, as is the Pisgah Inn, if you don't care to cook. Then there's the immediate access to the Mountains-to-Sea Trail and hundreds of additional miles of trail in the nearby Shining Rock and Graveyard Fields areas.
More info here. 
Crabtree Falls
Blue Ridge Parkway (North Carolina)
Milepost 339.5
70 tent sites, $20
Walk up only
Given its location and setting, the Crabtree Falls Campground should be overrun. Instead, it's overlooked. On one gorgeous summer evening three years ago, in Campsite 88, I was the only camper in Loop B, which let me enjoy a sunset view of Mount Mitchell and the Black Mountains in peaceful bliss. When the campground at Black Mountain is packed and Carolina Hemlocks a bit rowdy, Crabtree Falls lets you recover in quiet from a long day of exploring the Black Mountains or the nearby Mountains-to-Sea Trail.
More info here. 
North Mills River
Pisgah National Forest
Mills River, NC
31 sites, starting at $22
Reservations and walk-up
Many an unknowing camper has had his weekend plans dashed by arriving at the popular Davidson River Campground a few ridges over only to find out that it's booked (usually by 8 a.m. Friday morning on summer weekends). What they don't know is that the nearby North Mills River Campground usually has a space or two available. North Mills is smaller, more intimate, more laid back and offers direct access to miles of trail (some open to mountain biking) snaking up the Blue Ridge Escarpment. Or, grab a tube and loll the day away in the chill waters of North Mills River (which also supports a healthy trout population). 
More info here. 
Rocky Bluff Campground
Pisgah National Forest
Hot Springs, NC
15 sites, $8
No reservations
Usually when something is described as a "best kept secret," red flags pop up. Rocky Bluff, though, is a well-concealed gem, just three miles down NC 209 from Hot Springs. Again, the no reservations policy is a contributing factor, as is its location in an area that's not exactly on the way to anything — except Hot Springs, which too few people have an appreciation of. For one, there are the hot springs. But there's also a great trail-down downtown with good burger joints, a great outfitter (Bluff Mountain) and a vibe that invites you to just hang. But there's also white-water rafting on the French Broad (Hot Springs Rafting) and the Appalachian Trail runs through town, heading north over Rich Mountain, south to Max Patch. 
More info here.
Sunburst Campground
Pisgah National Forest
Canton, NC
10 sites, $15
No reservations
Twice, when there was no openings in the surrounding Shining Rock area, we found space at Sunburst. All 10 sites are first-come first-serve; the lack of reservations keeps this intimate campground off the radar of most tent travelers. Hikers will love the fact that a short hike up FR   97 takes you to the 6-mile Haywood Gap Trail, which penetrates the Middle Prong Wilderness. Or, take a short drive on up NC 215 and pick up the Mountains-to-Sea Trail just before the Blue Ridge Parkway: go right into the Middle Prong, go left into the scenic Sam's Knob/Little Sam's Knob/Black Balsam/Shining Rock area.
More info here.