You're fed up with the summer heat. With the tease (last week) of cooler, fall-like air only to be replaced (this week) with temperatures back in the 90s, you feel deceived. Maybe you didn't have the fleece out, but you were certainly thinking sleeves.
The temperature is a vexing vixen, ready to take down your psyche in an instant with the false hope of early fall. What you want is a more reliable indicator that fall and cooler temperatures are becoming the rule, not the exception. What you want is fall color. And you want it now.
It's why we're always eager to catch that first flash of fall color: the first golden yellows of the white ash, the deep reds of the red maple, the brilliant orange of the occasional sugar maple.
Fortunately, those first true signs of autumn are about to appear. Here are five hikes where you're likely to get a jump on fall color — and the reassurance that it offers. Three hikes are in the mountains, two in the Piedmont.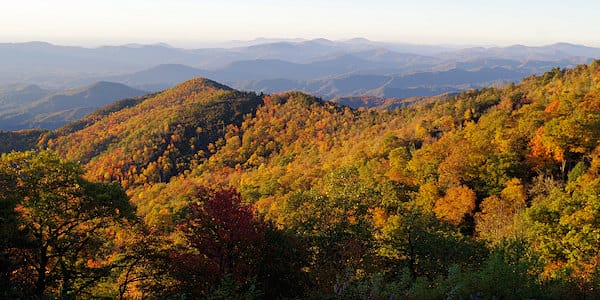 1. Black Mountain Crest Trail / Mount Mitchell
Mount Mitchell State Park
Burnsville
75 yards to 13 miles
Since we're all aware of gravity's affect on fall color — it starts high and rolls downhill — it only makes sense to start at the top. And along the East Coast, you can't start any higher than Mount Mitchell, at 6,684 feet above sea level it's the highest you can get east of the Black Hills. Of course, at this altitude (above 6,000 feet) the forest is dominated by the evergreen red spruce and Fraser firs. Look not far down the mountain, though, and you'll see fire cherry, yellow birch, mountain ash and mountain maple lighting up the slopes. A summit of Mount Mitchell proper involves a hike of maybe 75 yards — all on pavement. Earn your color by heading north on the Black Mountain Crest Trail. It runs for 13 miles, but there's plenty to see, including passage over five 6,000-foot peaks, in the first 4 miles.
More info here.
2. Summit Trail / Elk Knob
Elk Knob State Park
Todd
3.8 miles
As the Elk Knob's website notes, "Elk Knob is one in a series of amphibolite mountains in the southern Appalachian range. The area contains a high diversity of natural communities, many of them uncommon or rare. … Elk Knob contains an excellent example of a northern hardwood forest … typically found above 4,000 feet in elevation [are] sugar maple, yellow birch, American beech, and yellow buckeye." That is, the trees that give forests in New England their vaunted glow. In addition, from atop Elk Knob you can see Three Top and Bluff mountains, Mount Jefferson, Grandfather Mountain, Mount Mitchell, Mt. Rogers in Virginia and the Iron Mountains in Virginia and Tennessee.
More info here.
3. Mountains-to-Sea Trail: The Balsams
Blue Ridge Parkway
Between Pisgah Inn and Waterrock Knob
Various
Also known as the Mile-Hi section of the MST, this 61-mile stretch is southern high-altitude hiking at its best. In spots, it gets up close and personal with the terrain, but in many others it passes through open areas giving wide vistas of color flowing throughout the Pisgah National Forest and the Shining Rock and Middle Prong wilderness areas. The Friends of the Mountains-to-Sea Trail's guidebook for this section provides helpful access information: two especially good bets are to pick up the MST — and adjoining trails — at the Black Balsam Access (at FR 816) and at Graveyard Fields off the Blue Ridge Parkway. In addition to first dibs on color, another good reason to hike here early in the season: the Parkway isn't maintained and an early snow or ice episode can close the road indefinitely.
More info here.
4. Moore's Wall Loop Trail
Hanging Rock State Park
Danbury
4.7 miles
Mountain-top 360-degree views are few in the Piedmont (we can think of maybe a handful). At Hanging Rock, you have two. Hanging Rock proper is just 1.3 miles from the Visitor Center, making it a popular choice for the masses who descend on fall weekends. Less popular is the 4.7-mile Moore's Wall Loop, which, regardless of whether you hike it clockwise (our choice) or counter, requires payment in leg labor for the resulting views. Ah, but what views they are: to the west (Blue Ridge) and north (Virginia's George Washington National Forest) you can watch the color cascading your way. Or, hiked in late October into November, look south and east to see the Piedmont light up in the distance.
More info here.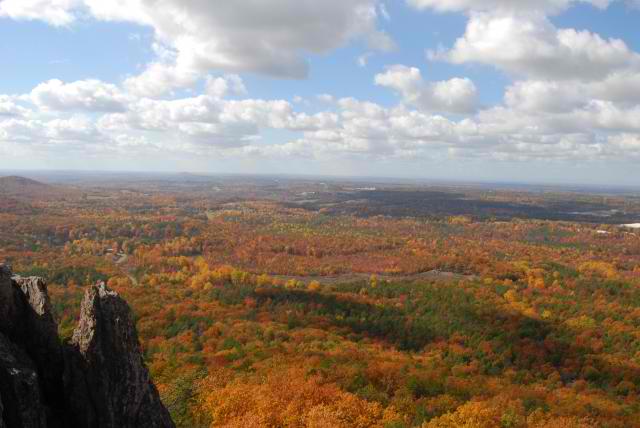 5. Ridgeline Trail
Crowders Mountain State Park
Kings Mountain
6.2 miles
Crowders Mountain, just west of Charlotte, is one popular place on fall weekends as its metro neighbors descend to ascend and catch the fall show, principally from atop Crowders Mountain and The Pinnacle. There's a quieter, gentler side of Crowders, though, and it's accessed via the Ridgeline Trail, which spans a 10K between The Pinnacle and the Boulders Access near the South Carolina line. The Ridgeline Trail offers rolling passage through Piedmont hardwoods, with views from the Boulders Overlook and, should you do the whole enchilada, The Pinnacle. Note that while you may have a crowd atop The Pinnacle, you will quickly lose them back on the Ridgeline Trail. Note, too, that it will be another 6.2 miles back to your car.
More info here.